10 Great First Date Ideas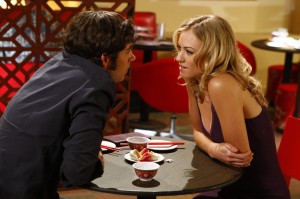 First impression lasts. I think most men want to impress women on their first date. If you have ever watched any of MTV's Parental Control episodes, you would have probably seen where those guys and girls take those who were controlled by their parents. They take them to a date where somehow shows their personality. It could be stressful to start but the reward is worth it. Okay, I don't want to act like a guru or something but here's a list of ideas that you can do together on your first date!
1. Go to the beach and have a walk. It's not an expensive date and you would be able to know more about each other because of the romantic setting. It's best to go there before sunset and have a dinner nearby.
2. Go bowling. It's probably one of the old style dates but it still works. You would still have a chance to know each other while playing. It would be an enjoying experience that you won't ever forget.
3. Go to your place. Okay, don't hit the goal too fast, take it slow still. If you're not living alone, talk to your roommates or parents about your plan. And if you don't know how to cook, ask for her help. You would definitely enjoy your time in the kitchen. After dinner, you could watch DVD and pop some popcorn.
4. Go to a museum. Check out an art or science museum and do some research beforehand. Try to impress her with your knowledge and skills. Afterwards, you can go to a nearby park, stroll and talk. And if it's not too much for you, bring some picnic lunch instead of going to a restaurant.
5. Go to an amusement park. But if you're planning to do this, ask your date first if she's okay with it. Not all people like adventures with rides. However, this is really a great way to start a date and it's undeniably fun!
Hey! Planning on getting a sex toy for your partner? I'll help you out. But help me also by ordering something at www.adameve.com and remember to use my name as special offer code! That's PENELOPE so you'd get 50% OFF almost any item, FREE Shipping, 3 Hot DVDS, and a FREE gift!
6. Go to a concert. Everyone loves music and this is a good way if you want to impress her with your taste in music. You can go to a nearest restaurant to eat and talk after the concert.
7. Go to an arcade. If you know that the girl you want to date likes this, you can go there for your first date. You would surely have a good time and afterwards, you can watch movie together or eat out.
8. Go to another city that both of you have never been to. This might sound like only for those who got bigger budget but it's not really like that. All you have to do is research about places to go especially restaurants. It's always great to try something new together.
9. Go to a coffee shop. There's nothing really big about coffee shops but if you want to learn more about the girl on your first date, this is one of the best places to go. After drinking coffee and having conversation, you can go somewhere else like park or movies.
10. Go hiking. If you're into adventures or sports, you can invite the girl to do something like this. This will also show your adventurous and fun side.
Google+ Comments
Comments
There are no comments on this entry.
Trackbacks
There are no trackbacks on this entry.