How to Make Your Every Night a Great Friday Night
Let's make your everyday a Friday night with this hot erotic story.
He cruised right through a stop sign heading towards the open ocean. She has to teach him a little regard about the safety of others. So she had him pulled over to the side of the road. Attempting to charm away an impending fine for a traffic violation, this 22-year-old surfer boy got this woman in authority impaled with the huge pack he's carrying with him inside his trousers.
She said that "You're going to service me not the community but if I don't climax then you're under arrest." He looked like a kid in the candy shop.
Listen now to this audio podcast to find more on what happened to his hot woman police officer who took advantage of this one time circumstance.
Use Offer Code FRIDAY at the checkout at AdamAndEve.com to enjoy 50% DISCOUNT on almost ANY ITEM, FREE Shipping, 3 BONUS DVDs, and a MYSTERY GIFT.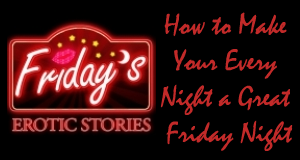 Podcast: Play in new window | Download
Google+ Comments
Comments
There are no comments on this entry.
Trackbacks
There are no trackbacks on this entry.