I Miss You!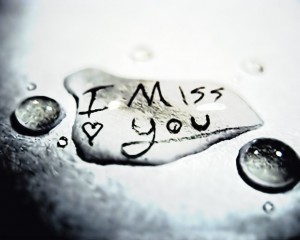 I know it's just a day that I missed blogging, but I miss you all already! I miss your comments, your tweets, and everything. It's just sad. I think I couldn't write as open as I was. I couldn't pour all my emotions in this blog any more. Sometimes, things really need to end. But I don't mean to say goodbye. Anyhow, things have really changed.
And now I think my boyfriend knows about my blog already. He didn't tell it to my face, he didn't really have to. But for the past days he kept telling me about my coworker. He thinks that if he didn't try to pursue me, I would have ended up dating my coworker. I said he has nothing to be really jealous about. I think he read the part where I said I wanna have sex with my coworker if he won't call me or something. Also, he reminded me about my ex boyfriend. For the love of God, he's my ex! And whether he read the part where I wanna get back to my ex, there's really nothing we can do now. But past is past, and there's a reason why my ex is a big X and that I'm with him right now.
Now I'm writing this in case he reads this blog again. I can't find any reasons now not to continue this blog. But if this would cause problem to our relationship… well.
Have a great day everyone! And may we all have a happy weekend. And don't forget to visit www.adamandeve.com and use offer code PENELOPE to get 50% on almost all item, free shipping, 3 free hot DVDs, and a mystery gift!
Google+ Comments
Comments
There are no comments on this entry.
Trackbacks
There are no trackbacks on this entry.