My Swinger's Experience
I do find it hard to answer when I get asked if I have a boyfriend. A single one – no. I'm not your typical girl, I suppose. I prefer to have relationships with couples – as in more than one person. I prefer to the be the 'trois' in the 'menage a trois'. Having moved to the city only a few weeks ago, my old circle of couples were not longer an available option to me, so I decided to check out a local swinger's club to get some networking done.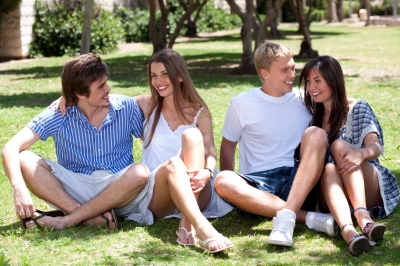 Swinger's clubs were really never my thing. I had always known "someone" who knew "someone else", and I was invited to swingers parties. The great thing about these parties is that everyone is much more comfortable, and not as 'on show' as I would imagine clubs to be. The last time I attended a party, I was able to get involved with a young lesbian couple. These luscious ladies had hips that filled your palms perfectly while you lap up their lovely lady juices. The added benefit of their other half of the pair penetrating me from behind with her strap on made the night that much more complete. It was a lovely going-away experience.
Tonight's activities, though, were new to me. I had found the details of a swinger's club from looking through the internet for swingers in my area. I phoned up the contact listed, and went through a bit of an application process. This club is quite exclusive, and doesn't allow single men to join, so they wanted to ensure that I wasn't a voice at the other end of the phone covering for a guy trying to weasel his way in. Shortly after came my card in the mail, as well as a special key ring that I was to show the bouncer when I gave him my name and ID. Quite a formal process for a bit of action, but I suppose it has to be done to protect the clientele.
Nothing I could have anticipated matched what I saw when I walked into this club. After realizing I had my mouth open, I closed it tightly and made my way around the dark rooms, peeping into each little area. What I saw can only be described as 'erotic'.
Google+ Comments
Comments
There are no comments on this entry.
Trackbacks
There are no trackbacks on this entry.