Nina Hartley's Guide to Breast Play
When Nina Hartley gets contacted by bi-curious women, one of the many things she gets asked is the best way to play with another woman's breasts. While every woman is different, there are a few general guidelines to follow for breast play. There are also lingerie pieces and sex toys that make the breast fondling experience that much more enticing, many of which can be found at Adam and Eve online. For a limited time only, if you use the coupon code "NINA50", you will 50% off your entire order, free shipping, plus a few other special gifts.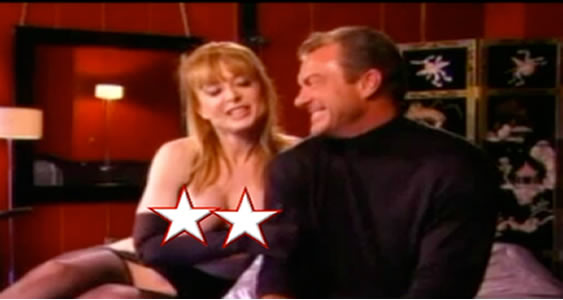 The first step in boob play is getting to the breast itself. While some women are sensitive enough to be aroused by gentle touches while their nipples are under a layer of fabric, others need a more direct approach. You can avoid the difficulty that some women (and some men) face when trying to take off a bra by wearing a cupless bra, like the Vixen Mesh Two Piece Set. You'll have easy access to all the right areas without having to fumble with clips and straps.
When playing with a breast, it's important not to squeeze the breast itself, but to squeeze against the muscle surrounding the breast. With the nipples, as well, pressure is key. Since a woman's nipples change sensitivity at certain times of the month, it's always important to establish where the line between pleasure and pain lies. Once you've got that figured out, you can move onto a bit of pinching and licking. For a hands-free nipple pinching experience, nipple clamps are a great way to give a bit of stimulation but leaving your fingers free to entertain other parts of the body. If you want something with a bit of added zing, try using vibrating nipple clamps.
A woman's breasts are one of the best places to get a woman's hormones going. With a bit of nipple stimulation, you can get her whole body in the mood for sex, and get the juices flowing where they need to be. Even if you're a first timer, Nina Hartley's Guide to Sex can help you get the right game in the bedroom. By using her "NINA50" coupon code at Adam and Eve, you'll be able to cash in on some serious savings for your breast-centric purchases.
Google+ Comments
Comments
There are no comments on this entry.
Trackbacks
There are no trackbacks on this entry.