Rules For A Better Phone Sex For Men
Hey guys!
Want to know some tips to have a hotter, better phone sex with a woman? Checkout Men's Health News as they feature some great tips from Gloria Brame, Ph.D., a sex therapist and the author of Come Hither: A Commonsense Guide to Kinky Sex.
Let Her Complain
When it comes to roping her in for a romp, the same rules apply whether you're 3 feet or 3,000 miles apart. "If she's had a hectic day and needs to unwind, let her vent," says Brame. If you help her defuse the day's tensions, chances are she'll be much more open to intimacy, Brame says.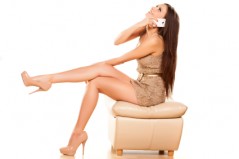 Pop the Question
To get her in the mood, get inquisitive. Ask her what she's wearing, then tell her you've been dying to take off her clothes since the minute you entered your hotel room. Ask her if she misses your touch, then tell her how badly you crave her taste. The follow-up to the question is especially key, since that's how she'll know you're in the mood, says Brame.
Be Her Tour Guide
Once you've dropped the hint that you're ready to get dirty (and she's on board), set the scene. "We're different people when we're aroused," says Brame. "So to have good phone sex, you actually have to get her in the mood." Your move: Ask her to go to the bedroom to undress, but insist that you be the one that guides her though the process. Tell her which garments to remove and when to remove them. And as she's following your lead, guide her hands with your words. Tell her where to caress, and to describe how it feels. When you verbally take control of the situation, it makes things less awkward for her, says Brame.
Get Filthy
Avoid talking about the traditional moves you normally do in bed. "People typically feel freer on the phone because they're just talking about naughty desires rather than dealing with the pressure of actually executing them," says Brame. If there's something you've been dying to try, go ahead and get graphic. Since you'll lack the sensations of real-life sex, Brame says the explicit thrill will keep you both aroused and focused on the task at hand . . . pun intended.
Indulge Your Inner Caveman
Phone sex won't work without solid communication and participation from both sides—but don't limit your interactions to merely words. "Never underestimate how sexy heavy breathing and moaning can be for a woman," says Brame. If it turns her on in the sack, it'll be even better when you're grunting right in her ear over the phone.
Learn more at News.Menshealth.Com!
"image is a copyrighted photo of model(s)"
Google+ Comments
Comments
There are no comments on this entry.
Trackbacks
There are no trackbacks on this entry.