Sex Games
In the mood for a sexy blonde in hot fishnets just waiting for you to get her wet and wild? Try out some sex apps. Sometimes you want to be wild and crazy, well, it's part of human nature!
Sex games not only break up bedroom boredom, they also open up the lines of communication and give you an excuse to expand your sexual repertoire. Oh yeah, and did we mention that fuck games add a new meaning to fun between the sheets? There are a lot of sex games for iPhone or sex games for android that you could try. Check out some exciting adult sex games!
1. Dirty Games Truth or Dare
This app is really straightforward. First, choose whether you want a truth or dare questions, then indicate whether a male or female is answering.
Truth questions can range from "What is your sexiest feature?" to "Who do you regret having sex with?" Dares range from the slightly naughty to the scandalous: "Act out a sex scene with the person on your right for at least two minutes."
If you're looking to liven up a party or some intimate time with your partner, this will certainly help.
2. Cosmo Sex Position of the Day
Downloaded more than 80,000 times, this app is heralded as the ultimate app to spice up your sex life. With 120 sex positions complete with detailed erotic instructions and tasteful visuals, you will have everything you need to switch things up in the bedroom.
3. Sex Toy Guide by Adam and Eve
This app will teach you everything you want to know about sex toys, lubricant and condoms. It has detailed reviews about how to effectively use sex toys, and helps you determine which ones are right for you.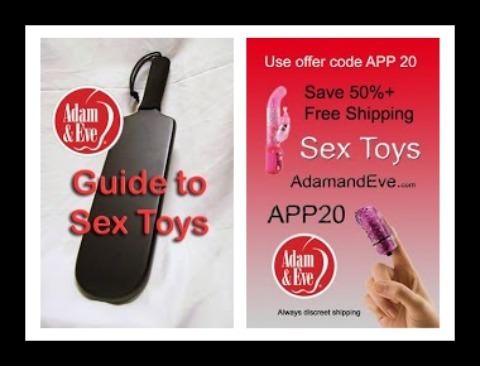 Whether you are in a new relationship or have been with the same partner for a while, these apps are sure to liven up your nights together. So check 'em out, and don't be afraid to try something new.
Right now, at AdamAndEve.com just use coupon code PENELOPE at checkout to get 50% OFF on almost ANY item plus 3 FREE Hot DVDs, a FREE Mystery Gift and FREE Shipping on your entire order!
Google+ Comments
Comments
There are no comments on this entry.
Trackbacks
There are no trackbacks on this entry.