Sex On The First Date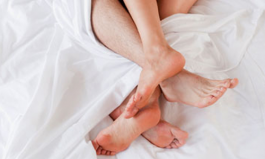 Is sex on the first date really as taboo as everyone makes it out to be? Are we still stuck in that 'waiting' phase, even if we've determined within a short time of meeting a person, that they'd be a good time in the sack? I've been on a few dates since moving to Vegas, and I can certainly say that at least one of them I've wanted to take back home and continue the date into the early hours of the next morning. I know that my mom would tell me to 'wait for the right guy' and all that jazz, but I think I'm not so much looking for a guy to make love to, as opposed to a guy that I just want to give me a screamingly good orgasm.
I asked a few of the girls at work what they thought, and they're pretty much on the same wavelength as me. It's taboo as in you don't talk about it, but there's no actual harm in doing it unless you're the type of person who wants every sexual encounter to have a deep romantic meaning. Unless you're the guy – then, for some reason, blabbing about your first date sexual encounters is par for the course. I guess it's like a 'don't ask don't tell' for girls.
So what do you think? Is sex still something where you need to get to know the other person a bit more before doing the deed, or do you just go with your hormones and see where the night takes you?
"image is a copyrighted photo of model(s)"
Google+ Comments
Comments
There are no comments on this entry.
Trackbacks
There are no trackbacks on this entry.