Six Silly Bedroom Blunders to Avoid When Spicing Up Your Sex Life
Have you made a New Year's resolution to spice things up in the bedroom? While improving your sex life is a great way to get a bit closer to your partner, be careful that you don't fall the common mistakes that women seem to find themselves in when hoping to spice up their sex lives.
You don't need to be a porn star to be hot. While men may turn to adult movies for a bit of sexual entertainment, most don't want on in their own beds. One man we interviewed said that the over-the-top moans and fake breasts aren't something that he's hoping to get in his own room, but he doesn't mind it in the movies. So you can stop worrying that your hand-jobs aren't quite quick enough, and that your screams of pleasure don't mimic those of the ladies in the movies.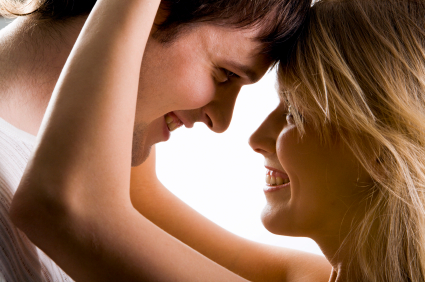 Don't skip the foreplay. The build up is as valuable to men as it is to women. You don't have to feel like you have to rush in and just get the deed done as fast as possible. Work him up with teasing and touching. Oral sex is another great way to get him going, and making him want it that much more. Men also love watching their partner get turned on as well, so make sure you enjoy yourself as much as you are worried about him getting pleased.
He's not a lollipop, so pay attention to more than the tip. While we are on the topic of oral sex, treating a man's penis like a lollipop might be a great way to start off foreplay and do a bit of teasing, you do need to move on and take it all into your mouth if you're hoping to give great head. You want to concentrate on the shaft and bases as much as the tip. You can really put a damper on the bedroom games if all you do is lick his head and forget about delivering great sensation to the rest of the penis.
Never forget the condom. Don't rely on the guy providing the condoms as a given. Ladies are just as responsible for safe sex as a man is, so be sure that you have a supply with you if you plan on doing the deed. Even if you are on the pill, you always want to use a condom with your partner if you are concerned about STDs, since we all know that the pill can't prevent diseases like herpes, AIDS, and other sexually transmitted diseases. Take your safety into your own hands!
Know when to shut up. While a guy might get turned on from a bit of moaning and a few dirty words, keep it short. Most guys can actually tell when a woman is faking an orgasm, since a partner who has paid attention to their lover can see other signs of when they are about to cum. Too much noise can be a major turn off, so save the screams for those scary movies.
Take the reins every so often. Not every guy wants to be in charge all the time. Some guys like to take a back seat and see what their lady can do to turn them on. Make the first move and really get his blood pumping in all the right places. Try sending him dirty emails letting him know all the nasty things you'll be doing to him when he gets home – it's a great way to take charge without having that awkward moments in the bedroom trying to figure out who's going to do what.
Google+ Comments
Comments
There are no comments on this entry.
Trackbacks
There are no trackbacks on this entry.