Some Ways To Make Him Better In Oral Sex
Want your guy to learn more means in pleasuring you? Want him to give you the best tongue action to make you cum more intensely? Cosmopolitan has the best ways to make him better in oral sex. Check them out below and savor the best oral sex from your guy.
Try Fore-Foreplay
Oral often gets bundled along with kissing and stroking as a form of foreplay, but because it's so intense, you actually need to warm up before he heads south of your border. Since men tend to get aroused faster than women, his instinct will probably be to start pleasuring you within 90 seconds of hitting the sheets, but stave him off by extending the time you spend touching, licking, nibbling, and talking dirty to each other.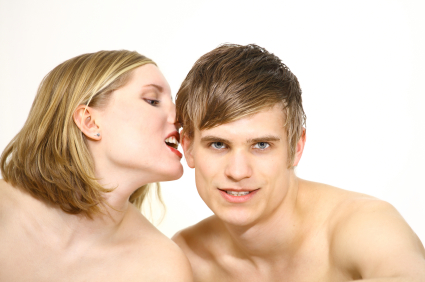 Build It Up
When he does go down on you, instead of diving right in, encourage him to tantalize your entire V-zone first. Sexily say something like, "Make me want it so bad that I'm dripping wet, and don't give it to me until I beg you." Have him breathe his hot breath through your underwear, suck on you through the fabric, and finally tantalizingly remove them. Then ask him to lick, kiss, and massage your inner thighs and pubic area before proceeding to the bull's eye.
Get Him Up to Speed
At first, most women crave a soft touch during oral sex…and then the more turned on you get, the more pressure you desire. Things that felt uncomfortable at the beginning might not be enough towards the end—so it's understandably tricky for men to get it right. If he's too rough, tell him, "I love what you're doing, but go just a little softer." If he's not giving you enough stimulation, say "yes" or "harder," or pull his head in closer.
Work Your Bod
Even though you're relaxing on your back, while he's doing most of the work, don't check out. One move that makes lots of women horny is grinding against their man's mouth. Grab his head, hold it firmly against you, and push into his lips, writhing in whatever way gets you off.
Teach Him a Lusty Lesson
Perhaps the biggest mistake men make when going down on a woman is attempting to penetrate her with their tongue the same way they would with their penis. As we're sure you can attest, that feels entirely unsatisfying. Here's how to show him what you like, without making him feel lame: Treat him to a BJ, and before you start, tell him that you want him to give you feedback throughout, and let you know on a scale of 1-10 what moves feel great. Then switch, and guide him to what works for you.
Your Pillow's Not Just For Sleeping
Propping one under your butt during downtown action can maximize your pleasure by making your G-spot easier for him to access. It also gives you more leverage to move your hips against him in a way that feels amazing for you.
Have Him Give You the Finger
For you to fully enjoy oral, chances are he'll have to insert a finger or two inside your body to press against your G. Guide his hand there manually, or say, "That feels so good. Put a finger in me please."
Double Your Pleasure
Take it up another naughty notch and whip out a vibrator. Tell him one of your fantasies is for him to use it in your vagina while stimulating your clitoris with his mouth.
Don't Neglect Your Ta-Ta's
One of the great things about regular sex is all that hot skin-on-skin contact. But during oral, with so much attention directed at your lower half, your girls can end up feeling a little neglected. Either touch yourself (which is way sexy for you—and for him, when he glances up and sees), or gently move his hands to where you want them: massaging your breasts, stroking your neck, inside your mouth so you can suck on his fingers. Another tip is to position one of your legs in between his so you can feel his erection.
Make Your Way Through the Oral Kama Sutra
Okay, so it doesn't actually exist (hmmm…yet…), but switching up your position can make oral more fun and exciting. A few to try: 69 obvs, lying on your side (this lets him caress your butt and lower back), you on top (straddle his face), on a carpeted floor (since it's firmer than a mattress, it gives your hips more leverage).
More, More, More!
Are you an oral convert, yet? Hope so. Now, the only issue is how to get it, like, all the time. Just drop this line: "I love the way you go down on me, and the feeling of coming with your head between my legs. Tonight, let's have an oral sex night." Unless he's brain-dead, what guy could resist?
Read more at Cosmopolitan.com!
Google+ Comments
Comments
There are no comments on this entry.
Trackbacks
There are no trackbacks on this entry.