Do You Take Risks in Love?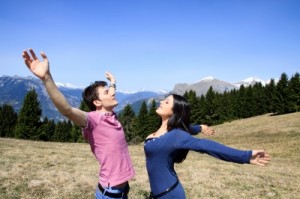 A question I don't really want to answer. Because I think the answer is obviously yes. So what I did is I let my roommate answer this cosmo quiz and below is the result she got. A sensible Seductress!
You know when to be daring with dudes (or take a chance with the one you have) because you weigh the pros and cons first. "Instead of taking blind risks, you take them with both eyes open," says Debra Rosenweig, PhD, a clinical psychologist in New York City. Ergo, you wouldn't impulsively ask your new guy to an intimate wedding or hop on a plane to see your beau without thinking, Yeah, it would be sooo romantic, but will he wig? If you're in doubt, you'll make a subtler move to feel it out.
But just because you look before you leap doesn't mean you're not passionate. "You approach your desire in a more moderate way," says Jennifer Hunter, PhD, a clinical psychologist in New York City. Rather than going home with someone, it's enough for you to have approached a guy and gotten his digits. If it evolves into anything, fine — but you're not screwing yourself by going overboard tonight. You show a similarly balanced boldness in steady relationships. "You're confident enough to express your needs and expect he'll want to make you happy, whether it's saying, 'Let's a trip' or telling him what you want in bed," says Rosenweig. "Plus, you don't expect the guy to make all effort to bring spontaneity and fun to the relationship." By meeting men halfway, you double your chances of being a tight twosome.
How about you?
P.S. Help me with my projects! Visit my sponsor Adam & Eve and use my special offer code PENELOPE to get 50% off + FREE Shipping + 3 Hot DVDs + a MYSTERY GIFT! =)
Google+ Comments
Comments
There are no comments on this entry.
Trackbacks
There are no trackbacks on this entry.