Sex Toy Kit: The Sex Therapy Kit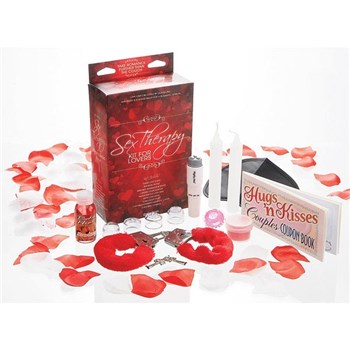 This is a great kit for beginners.  It has everything you need to get started. Play dirty or sweet. Be an animal or be romantic. This kit can do both.
Kit includes:
Red Fur-Lined Love Cuffs
Has key lock and safety release. So no worries if you lose the keys in the thrills of passion. The red fur lining adds extra comfort so wrists won't be sore or bruise. Play dirty cop. Sway your cop not to take you to jail. You will do anything to avoid a ticket. Arrest your man for not picking up his dirty socks. Make him your jailbird slave.
Mini Massager Vibe
Comes with four different head attachments. Takes one AA battery, which is not included. Make sure to purchase one with your order. Ok maybe more than one because while the battery lasts you are going to love this toys and use it over and over again. Don't let its size fool you. Remember it is not about the size of the boat but how you use it. Use it on the right spot and it will thrill. Have your partner use it on you while you're handcuffed and blindfolded. Removable head attachments make cleaning easy.
Mega-Stretch Penis Ring
This penis ring is super stretchy to fit every size. The outside is textured for extra stimulation. Your man will have longer, stronger erections you both can enjoy. Since it is made from stretchy material it is comfortable to wear, easy to remove, and simple to clean.
2 Wax-Play Candles
These candles can add some extra fun but be careful wax play is not intended for BDSM beginners. Even low-temperature candles burn at 130 degrees and require caution. Be sure to hold the candle at least 3 feet away from the body. Start with just a drop or two of wax on a less sensitive part of the body to see how your partner reacts. And then the two of you can make an informed decision about whether to continue or stop. If you haven't tried wax play make sure to try it before you get to into it. That way if you don't like it you won't kill the mood. I like to keep burn cream handy just in case things get to hot.
An Assortment Of Red And White Silken Rose Petals
Set the mood with these petals spread across the bed. Make a line to the bed room were your partner can find you covered in editable body paint. Lead you partner in and handcuff them and have your way with them.
A Black Love Mask
Taking away sight enhances all the other senses. Use with the mini massager to enhance orgasm. An added bonus, it doubles as a sleep mask. You will be very tired after playing with this kit.
Warming Massage Lotion
Rub down your partner or get rubbed down by your partner with this warming massage lotion. The sent smells great and the warming action relaxes tense muscles to get you ready for play. Since the sex drive can be linked to emotion including stress, an erotic massage can be a great way to distress from the day and make it easier to get in the mood. If you only use certain scents during four play and sex your mind will automatically associate that smell with sex. Using this massage lotion over and over again just the smell of it will turn you on.
Edible Body Paint
Colors may vary but you can paint yourself with instructions. Tell your partner wear to lick, kiss, or suck. This body paint is edible and has a tasty flavor. Go out to dinner and after the meal go to the bathroom and paint yourself. Tell your partner about it or even send them a picture of where the paint is. Just make sure they don't get a speeding ticket trying to get home.
Couples' Coupon Book
 Filled with romantic and erotic suggestions! I like to message a picture of the coupon I want to cash in later. The anticipation drives him wild. I also like to make up my own coupons to add to the book. You can use your own coupons to get things you want done. Example: One Blow Job in return for a clean kitchen.
Don't Forget the Batteries
The mini vibe requires batteries so make sure to add some to your order. I recommend Duracell batteries. They may cost more than a store brand but they last longer and are more powerful so you get the strongest vibes possible. The cheaper batteries may leak and ruin your product.
Want More?
Add these items to your order get even more pleasure!

Make Me Cum Clit Sensitizer
Increase the sensitivity of the nerves in the clit for more intense orgasms! Rub a small dab on your clit about 10-15 minutes before sex. Feel every touch like never before!
Adam & Eve Strawberry Clit Sensitizer Gel
Add some flavor and increase your pleasure. Your partner will love the taste and you will love the enhanced pleasure. The flavor is perfect for oral sex. Apply 10-15 minutes before sex to allow the gel to absorb completely. The pump bottle makes it easy to get just the right amount.
Adam & Eve Go Long Delay Gel
Help your man go longer. You both with enjoy the longer, stronger erections. It also numbs the reflex action for deep throating. After about 10-15 minutes, you're ready to thrill your partner for as long as you like.
Still haven't had enough!?
Your appetite for pleasure is insatiable so let me get you closer to satisfied.
Go to adameve.com
Add this kit to your cart and any other products you want
At checkout enter the code PENELOPE and get
50% OFF this kit or on almost any item plus
FREE Discreet Shipping
3 FREE Bonus DVDs
and a FREE Mystery Gift
Wait for your discrete package to arrive
Enjoy your Sex Therapy
Google+ Comments
Comments
There are no comments on this entry.
Trackbacks
There are no trackbacks on this entry.