The Best Types of Penis Rings
Thinking about trying a penis ring? There are several types of penis rings.  From your basic slip on jelly ring, to a more extreme penis ring, such as the "cock and ball" type. Do you want to use a cock ring to create a harder erection and to delay orgasm? Or are you just really trying to last longer to please him or her?  Sometimes just trial and error will determine which penis ring is right for you and or your partner.  I am going to tell you about three of my personal favorites.  I love using "duel" purpose penis rings because of the pleasure both myself and partner experience.  These are three different best penis rings that happen to be my favorites. The Adam and Eve Butterfly Couples Ring, Big O Multi-Stage Vibrating Penis Ring and the RingO Erection Rings.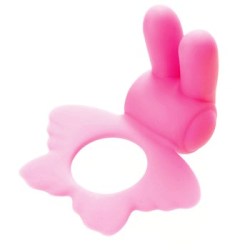 A&E's Butterfly Couples Ring 
The Butterfly Couples Ring is, hands down my favorite penis ring to use with my partner.  It creates a snug but not too tight fit around the penis. This ring enables your partner to keep a longer and stronger erection without causing discomfort.  If your partner has a large penis, you may want to try a ring that is more flexible.  But for now, let's take a look at all the amazing features the Butterfly Couples Ring has as well as a step by step guide on why or why not to choose this penis ring, and  how to use this awesome orgasm producer if it is the right toy for you!
Ask yourself why you want to try a cock ring, and what would you like the cock ring to do for you.
Do you have a lady you cherish and want to please? Do you want to create more satisfaction for her? Do you want to try a penis ring without committing to a very tight fit, but still reaping the benefits of an intense orgasm? The Butterfly Couples ring might be for you.
Ask your consensual sensual sexual partner if they want to experiment with a couples ring.
Does she enjoy intense clitoral stimulation? Is she comfortable experimenting with sex toys? What are her past experiences with penis rings if any? Does she want to experiment with this toy with you? If all the lights are set to green and she emphatically screams yes! Then the Butterfly couples ring sounds like a perfect fit.
What are the features of the Butterfly couples ring? What makes it awesome?
Extra-long clitoral stimulators function as powerful mini-vibes
Functions like a rabbit type vibrator that will drive her wild
Butterfly wings designed for vaginal stimulation
Gently increases his size to the optimal length and girth
Play with 7 different speeds and vibration patterns
Made from super stretchy and hypoallergenic silicone
Batteries, included
Adam and Eve have a special offer just for you when you purchase the Butterfly Couples Ring.  After placing this penis ring in your cart and are ready to check out, use the offer code PENELOPE. You will receive 50% off this toy, FREE SHIPPING on your entire purchase, 3 FREE bonus DVD'S and an awesome Mystery gift! Just make sure to enter the check-out code PENELOPE!
Big O Multi-Stage Vibrating Penis Ring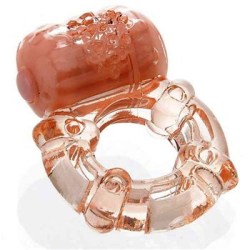 The Big O Multi-Stage vibrating penis ring is another one of my favorites. I love this penis ring because of the tight fit on my partner's penis, and the multiple vibrating speeds and soft clitoral stimulating nodules that tease your clit with every stroke your partner makes. This penis ring fits around the base of penis, and is a good tight fit.  This creates a long lasting erection and an amazing orgasm.  If you have a large penis I would recommend using a water based lube to aid in putting it on.  This penis ring has many of the same benefits the Couples Butterfly ring.  Ask yourself and her the same questions.  The differences are;
A more snug fit for you.
Soft multi speed nodules for her clitoral stimulation.
What makes the Big O Multi Speed Penis ring awesome?
Ready right out of the package – FREE battery!
Multi-speed vibrations at the touch of a button
Soft gel ring for support and comfort
Single speed or multi-function cycling mode
Pleasure ticklers for her
And of course, Adam and Eve have a special discount when you purchase the Big O Penis ring.  Just enter the code PENELOPE at check out to get 50% off this toy and FREE shipping on your entire purchase!
The RingO Erection Ring set comes with three unique penis rings. You can wear them in a number of different combinations for different effects and sensations. You and your lover will enjoy experimenting with all the different options. These penis rings are a bit more extreme then the other two I have shown you.  Ask yourself and your lover if you are ready to try the RingO Erection rings;
Are you ready to try cock rings that provide a tight fit that creates girth, length and staying power?
Are you interested in trying a "cock and ball" type penis ring? The larger ring in this set allows both the penis and testicle to slide through the ring creating new, amazing sensations?
What makes the RingO Erection set amazing?
Includes three specialized penis rings for variety
Men love the boost in size and endurance from penis rings
Women love the extra clitoral stimulation from the rings
Stronger Ring fits even the biggest men
Harder Ring helps delay ejaculation to boost your endurance
Firmer Ring has a super-snug fit to keep you rock hard
Rings' inner width measures between 0.75 and 1.5 inches
Made from stretchy and hypoallergenic silicone
Ready to try the RingO Erection set? Great! Head on over to www.AdamandEve.com, use the code PENELOPE at check-out to receive 50% off this toy and FREE shipping on your entire purchase.
If you have never used a penis ring, this simple toy is a great way to bring some excitement into your sex life.  So remember, make sure the penis ring is snug around the base of the penis, with all the fun vibrating parts facing and touching the clitoris.  Use water based lube to make sliding the penis ring on nice and easy.  And remember, use the offer code, PENELOPE at checkout on www.AdamandEve.com to get an awesome discount! Have fun!
Google+ Comments
Comments
There are no comments on this entry.
Trackbacks
There are no trackbacks on this entry.