Sex Toys Kit: Adam And Eve The Complete Lovers Kit Product Review
This Adam & Eve The Complete Lovers Sex Toys Kit has everything to get you and your lover started!
Kit Includes
7" Multi-Speed Silver Vibrator
A classic 7" Multi-Speed Silver Vibrator that slides in smoothly and delivers powerful sensations. The twist speed dial lets you easily rev-up or re-down through the 7 speeds at your pleasure. This vibrator can be used with or without the sleeves. Slide a condom on and use for anal play.
Rabbit-Style Sleeve
Hit your inner and outer hot zones! The Rabbit-Style Sleeve slips over your vibrator to give you G-spot and clitoral stimulation. The ribbed shaft and penis shaped head hits all the right spots. The nubs on the Rabbit please your clit for mind blowing, toe curling orgasms. Since it is a sleeve it is very easy to clean.
Nubby Sleeve
The Nubby Sleeve slips over your vibe for maximum stimulation as you thrust away! You will love these dozens of tiny nubs. They create a simulation like no other. Since it is a sleeve it is very easy to clean.
Swirled Sleeve
Feel the smooth sensations of the Swirled Sleeve with or without vibrations for a fantastically filling experience. These swirls stimulate your vaginal walls with every thrust. Since it is a sleeve it is very easy to clean.
Stimulating Penis Ring

Slip the Stimulating Penis Ring around your partner's erection to keep him going harder, longer. You both will experience intense climaxes. The nubs add extra stimulation you both will enjoy. This ring is water proof and very easy to clean. Try using this with your partner in the shower.
Ben-Wa Balls

Treat your vaginal muscles to a massage with Ben-Wa Balls! Use for incredible foreplay or daily kegel training to increase your orgasmic potential. They are easily removed by pulling on the string.
8" Anal Beads


The 8" Anal Beads start off small but quickly grow in size to give you a dirty and challenging thrill! You can go at your own pace. Insert as many or as few as you like. Pull on the ring for removal. Do this during climax for an out of this world orgasm. Clean with an anti-bacterial soap.
Add Extras
Lube
Water based lubes are a great way to go because they are safe to use with condoms. My personal favorite is Astroglide. It is great for people that are sensitive and a small amount goes a long way.
I like to pop top lids for travel and pump lids for at home.
Make Me Cum Clit Sensitizer
Increase the sensitivity of the nerves in the clit for more intense orgasms! Rub a small dab on your clit about 10-15 minutes before sex. Feel every touch like never before!
Adam & Eve Go Long Delay Gel
Help your man go longer. You both with enjoy the longer, stronger erections. It also numbs the reflex action for deep throating. After about 10-15 minutes, you're ready to thrill your partner for as long as you like.
Massage Oils
Massage each other. It is a great way to get the mood going.  Try Adam & Eve Pheromone Massage Oil. The strawberry pheromones put your brain right into sex mode. The fill top bottle makes it easy to apply and a little goes a long way. Do not use on sex toys!
Does your partner like to watch?
Add a masturbator or stroker for him! Not sure which to go with try a Fleshlight. They are very highly rated!
Other Products that this Kit pairs well with
Sex Therapy Kit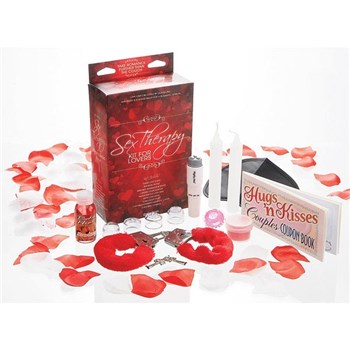 This sexy kit gives you everything you need to set the scene for all kinds of steamy encounters!
Kit includes:
• Red fur-lined Love Cuffs (key lock w/ safety release)
• Mini Massager Vibe with four different head attachments (takes one AA battery, sold separately)
• Mega-Stretch Penis Ring
• 2 wax-play candles
• An assortment of red and white silken rose petals
• A black love mask
• Warming massage lotion
• Edible body paint (Colors may vary)
PLUS a couples' coupon book filled with romantic and erotic suggestions!
*Read more about this product in another review                 
A&E Booty Boot Camp Training Kit
Add even more anal play fun. With three different sizes you can train your way from beginner to sexpert!
First Time Fetish Nipple Teasers
Add some nipple play! The chain adds sensation and weight. Has adjustable tension controls. Clamps are rubber for comfort.
Savings!
Are you and your lover ready to play with Adam & Eve The Complete Lovers Sex Toys Kit? Great! Now let's get you a great deal so you can get going!
Go to adameve.com
Add this kit to your cart and any other products you want
At checkout enter the code PENELOPE and get
50% OFF this kit or on almost any item plus
FREE Discreet Shipping
3 FREE Bonus DVDs
and a FREE Mystery Gift
Wait for your discrete package to arrive
Enjoy your A&E The Complete Lovers Kit
Google+ Comments
Comments
There are no comments on this entry.
Trackbacks
There are no trackbacks on this entry.