Fantasy Wear Lingerie's and Role Play
Want to spice things up? Try some new fantasy wear lingerie. Try a wig, tights or glove, or a costume.  Why not go for a head-to-toe look! Try out new role play ideas.
Wigs
Wigs are a great way to change things up a bit and get a new look. Maybe if you and your partner like it enough you can dye your hair later. Go long or short. Any color or style you want. Maybe your partner has been ogling that blonde hottie at the coffee shop. Surprise him and serve him a cup at home with your new wig. Get a "hello my name is…" name tag. Wear nothing but the name tag and an apron. Make sure to not spill the coffee when he bends you over the table.
Gloves and Stockings
Gloves and stockings can be a great addition to any fantasy wear. They can really give you the completed look. Add knee high stockings to your school girl outfit. Gloves can add a new touch sensation. Try rubber gloves and play naughty nurse or doctor.
Masks
Both of you wear masks. Who is this masked stranger? How about a one night stand with his man you have never met. Try and seduce each other into bed.
Dominatrix
Does your man like to be dominated? Get the full look. Thigh high tights, gloves, spanky skirt, and jazz it up with a pink or black wig. Don't forget to get toys. Paddles, whips, crops, and anything else your partner so desires.
Sexy School Girl
Be the teacher's naughty pet. Bring him a shiny red apple and in return maybe he will spank you with his ruler.
Maid
The house is so dirty. It needs a good cleaning. Grab a feather duster and give it a good dusting.
Sex Slave
Surrender to his every command. Let him handcuff you or tie you up and have his way with you.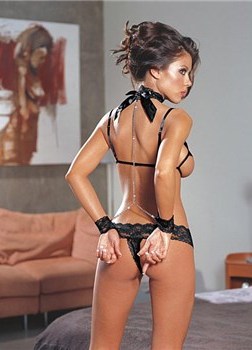 Secretary
He is having a rough day at the office. Relax him with a massage or a blow job. A secretary must take care of her boss in every way.
Nurse
Oh no! Your partner is feeling under the weather. Looks like you will have to nurse him back to health. Maybe you re the nurse and ask the doctor for a checkup. Are you sure you can use THAT to check my temperature?
Cowgirl
Ride your man cowgirl style and have the fantasy wear to make it even more fun. He won't be able to wait for you to start to ride. The tassels will tease him with flashes of your naughty parts. Don't forget to purchase a cowgirl hat or if your partner has one just borrow it. Cowgirl boots are a great addition to this outfit.
Shirt and Tie
For some men there is nothing sexyier than a girl in nothing but a white long sleeve shirt and tie. See if your man has any old button up shirt lieing around. Let him rip it off of you and the buttons will fly!
Misses Clause
Santa I have been good girl all year and I am ready for my present! Maybe you are on the naughty list and are in for so punishment.
Playboy Bunny
Grab a set of bunny ears and be his naughty little bunny. Do a naughty photo shot just for him. Surprise him with it or let him be the photographer. Maybe he will play Hef. Get him a pair of sexy pajama pants.
Spandex Fetish
Does your partner love spandex? Try this little number and drive him wild!
Cheerleader
Grab some pompoms and let your man score a touchdown! Give me the D!
Referee
I call a foul. You are wearing clothes! That is against the rules. Penalty 15 minutes of fore play.
Mermaid
Lure him into the bed with your siren song.
Diva
Make him wine and dine you before you give up the good stuff. Make him feed you grapes and chocolate covered strawberries. Only champagne will do for you. A foot rub. Only after you are satisfied can he be.
Slumber Party
Oh no! You are just a sweet and innocent girl at a slumber party with all of your girlfriends having a pillow fight when you hear taps on the window. You look and there is a boy standing outside your window. He climbs up and into the window. Whatever do you do?
Cougar
Be on the prowl. Stalk your partner. He's new at this and a little shy show him what a woman with experience can do. Train him to do it just how you like.
Jungle Girl
Find your wild side. Let your civilized man try to tame you're the wild beast.
Wrestler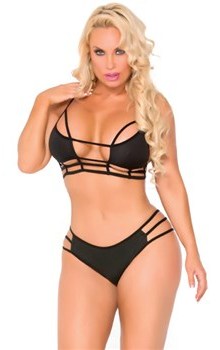 Lube yourself up and have a match. Try to subdue your partner into submission. Will he tap out or can he go for the win?
Princess
You have been locked away in a tower your whole life guarded by the evil dragon and prince charming has come to rescue you. He slays the dragon and makes him way up to the tower. He is in your tower. It is only right that you repay him for saving you. Get on your knees and show how grateful you are.
Go Go Dancer
Seduce him with your sexy moves. Tease him with the swaying of your body until he can't take it anymore.
Try anything once!
Don't be afraid you never know what you will like. Not sure how to go about trying out a new fantasy? How to suggest it to your partner? Try writing down your fantasies on slips of paper. Have your partner do the same. Put them into a jar and draw out an idea. Talk about the suggestion and give yourself a few days to prepare. Maybe draw an idea on Monday so you have time to go shop and get supplies. Saturday night is the night! The excitement will drive both of you wild!
Ready to get your Fantasy Fulfilled!?
Go to www.AdamandEve.com
Add one or more of these fantasy wear outfits to your cart and any other products you want
At checkout enter the code PENELOPE and get
50% OFF almost any one of these items plus
FREE Discreet Shipping
3 FREE Bonus DVDs
and a FREE Mystery Gift
Wait for your discrete package to arrive
Fulfill your fantasy!
Google+ Comments
Comments
There are no comments on this entry.
Trackbacks
There are no trackbacks on this entry.