Top Rated and Best G-Spot Rabbit Vibrators For Women
You can never go wrong with a Rabbit but which one or ones are right for you? Keep reading to find your perfect Rabbit!
Rotating G-Spot Rabbit Vibrator
Choose from 7 Vibration Speeds & Patterns! This Rabbit combines the best 5 favorite features all into one. The rotating shaft wiggles for a realistic experience. Get a vaginal massage from the rotating pearls. This Rabbit has a curved g-spot tip so you can hit the g-spot with pin point accuracy.  The Rabbit ears are soft and flexible allowing them to vibrate and tease your clit. The control panel on the front of the bottom of the Rabbit allows you to choose from 7 different speeds of vibration (try number 6, it is my favorite) and 6 different rotation speeds. Those vibrations of the Rabbit ears are crazy good. Try them all to find your climax combination! This Rabbit requires 4 AA batteries that are not included. It requires more batteries than other Rabbits but is worth it because they allow it to pack a longer, stronger, more intense sensations.
Wet Wabbit Vibrator
This Rabbit is waterproof for all of your aquatic adventures. Take it to the pool or use it in the tub or shower. This Rabbit's ear are firmer for more clitoral stimulation. The built-in control let you choose from 3 speeds of vibration and 3 speeds of rotation. The no jamming beads in the shaft provide a vaginal massage and the rotating tip teases your g-spot. The firm bunny ears dance on your clit for toe curling pleasure. Since this toy is water proof cleaning it is a synch. Requires 3 AA batteries not included. Make sure the rubber o-ring is still in place when you put in the batteries to insure your Rabbit stays waterproof.
16 Function Super Rabbit Vibrator
16 functions! This Rabbit will never get old. With all of these functions you will have plenty of combinations to try. This Rabbit has raised ripples along the shaft for added stimulation. It has the classic bunny for clitoral stimulation but it packs 16 vibration and shaft rotation speeds and patterns. After trying the first 8 settings press the S2 button to try 8 new patterns. This Rabbit is also water proof so have some fun in the tub! This Rabbit requires 3 AA batteries not included. Make sure the rubber o-ring is still in place when you put in the batteries to insure your Rabbit stays waterproof.  Remember to remove the batteries when not in use to increase the life of the batteries.
Eve's Lucky Bunny
Ready for targeted clitoral stimulation? Then this is the Rabbit for you! These clit stimulating firm bunny ears are 1.5 inches long and ready to please with 7 speeds of vibration. These ears can stimulate anywhere you put them. This Rabbit is water proof so it can be used in the tub or shower. It requires 1 AAA battery not included and can be a bit tricky. If the Rabbit turns on automatically when you twist the battery cap back on the battery in in backwards. Just flip it around and you will be good to go. Make use the o-ring is secured in place to keep it water proof when inserting and removing the batteries. To turn it on press the button for about 3 seconds and to power down press the button again for about 3 seconds. Click through the 7 speeds at your leisure. For best results, remove batteries and replace cap before cleaning.
Eve's Triple Pleasure Rabbit
Add anal stimulation to your Rabbit! This Rabbit offers g-spot, clitoral, and anal stimulation all in one Rabbit! Can you take the triple pleasure? Made from soft silicone that will heat up to your body temperature to added comfort. The spinning beads massage your vaginal walls while the bunny ears tease your clit and the slim and flexible 4 inch vibrating anal stimulates your back door. You can enjoy 3 speeds and 7 vibrating functions then choose your favorite or favorite combination. If that isn't enough it is also water proof! Requires 3 AA batteries not included.
Bunny Tron Thrusting Rabbit
The thrusting action feels just like a real lover. This Rabbit has an extra-large clitoral stimulator for enhanced pleasure. The spinning massage beads give you g-spot and vaginal stimulation. The ribbed shaft adds extra thrills. Play with 6 vibration modes and 7 thrusting speeds. Since the vibration and thrusting are controlled separately you get over 40 combinations to try. The on/off button makes powering on or off easy since you do not have to back down through the speeds. Made from durable body-safe TPR for long lasting fun. Requires 4 AA batteries not included. This toy is water resistant but be careful when cleaning not to get the battery compartment or control panel wet.
50 Shades of Grey Greedy Girl G-Spot Rabbit Vibrator
From the official line of Fifty Shades Of Grey toys, endorsed by author E.L. James! Get Greedy For Pleasure! Made from satin smooth silicone that heats up to body temp for comfort. The big g-spot tip aims to please and the bunny ears tease your clit all the way to orgasm. The shaft has 12 vibration modes and the bunny has 3 vibration speeds. Rechargeable via USB port so no batteries needed. A full charge takes 120 minutes. Enjoy while reading your novel. "This is too much – all this overstimulation, everywhere. My body starts to climb, and on my knees, I'm unable to control the buildup. Oh my…" – Anastasia Steele, 50 Shades Of Grey
Deluxe Rotating Wallbangers Rabbit Vibrator
Enjoy shower time thrills with this super strong suction cup based Rabbit. The suction cup makes for hands free fun. Try using the suction cup anywhere else it will stick. Coffee table, kitchen counter, or toilet seat lid. I know, I know toilet seat lid….just trust me. Make sure the lid is clean and stick it on. Depending on how you bathroom is set up you can use the walls to brace yourself and the toilet seat is easy to straddle. You can try straddling the tub just be careful if it is wet. The shaft has 3 speeds including 3 speeds in reverse so you can use it from whatever position you like. You can use it in the dark because the control panel has five buttons and six lights. The swirling shaft beads and vibrating rabbit ears give you the most intense orgasm.  It takes 3 AA batteries not included.
Bunny Dreams Intimate G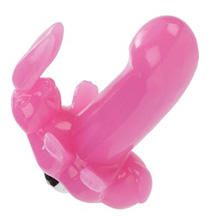 Hands Free Fun! This Rabbit is discrete so you can take it and wear it any wear. The 3 inches of insertable will hit your g-spot just right while the bunny ears tickle your clit and labia for mind blowing orgasms. There are three speeds: low, medium, and high powered by a removable ABS bullet. Activate these by the button on the back. This toy will also help you strengthen your kegel while enjoying all the vibrations it has to offer. Requires 1 AAA battery not included so add that to your order.
Have extra fun out on a dinner date with your partner. Wear it under your clothes to the movies fantasizing about your big screen movie crush.  Wear it at the office for the ultimate rush of forbidden naughtiness.
Ready to get your Rabbit!?
Go to adameve.com
Add one or more of these Rabbits to your cart and any other products you want
At checkout enter the code PENELOPE and get
50% OFF almost any one of these Rabbits item plus
FREE Discreet Shipping
3 FREE Bonus DVDs
and a FREE Mystery Gift
Wait for your discrete package to arrive
Enjoy your Rabbit!
Google+ Comments
Comments
There are no comments on this entry.
Trackbacks
There are no trackbacks on this entry.