Sex Toys For Gay Men
So, you're Gay, so what? Shouldn't you have just as much fun as your heterosexual friends? I mean, there are a plethora of toys out there for strait couples, what about you? Well, I am here to tell you that being gay is fun! That is, there are plenty of toys out there for gay men, and you have no reason to be bored with your sex life.  There is also no reason for you to be ashamed or embarrassed buying sex toys.  I will be telling you about several awesome gay sex toys, as well as a discreet way to purchase and have the toys delivered to you without anyone knowing anything!
So, what turns you on? Not every toy is right for everyone.  Are you an experienced gay man that is looking to spice up his sex life? Is the same old routine getting old? Craving something new? Keep reading, I have the answer for you.  Did you just come out? New to the gay scene? Looking to fit in? Are you looking to attract the perfect partner? I have the answer for you.  Perhaps you are a gay man into the singles scene.  Are you trying to attract other single men? Are you looking to make your sex life more exciting? I have the answer to you too.  Whatever your circumstance is, there is a perfect sex toy waiting for you.
Let's start off with you newbies.  Just came out? Or perhaps you have been out but still at a loss as how to play? This toy is awesome for beginners.  My 1st Anal Explorer Kit gives you everything you need to start with anal play.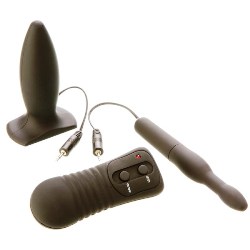 This toy is great for beginners or anyone looking to explore more of their back door.  With this toy you will receive, 2 black anal vibrators.  The first one is an easy-penetrating slim 5" anal probe, then go for bigger fun with the 4" rounded bullet! Both vibrators plug into a jack-pin controller for independent or simultaneous fun. With a touch of a button you and or your partner can enjoy 10 powerful speeds, which include; 10 functions of vibration, pulsation, and escalation. Yes, yes, yes!! And guess what guys…. This toy is also waterproof!  Want to try this toy?  Well I have an awesome offer for you.  AdamandEve.com is offering 50% off this toy, free shipping on your entire order, 3 HOT DVD's and a free mystery gift! Just use the code PENELOPE at checkout.  What a sweet deal!
Okay, I get it, you have been around the block a time or two.  Are you becoming bored with your predictable sex life? Looking to spice it up a bit? I think you might like the KingCock Double Trouble Dildo.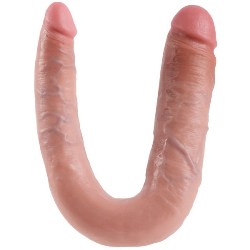 You might at first glance think of this as a woman's double penetrator.  Of course it could be used as that, but imagine the fun you can have with your sexy partner back to back or front to front.  This is also great for the guys that want to start out "small" then be inserted with a bigger member.  Your imagination is limitless, I bet you can find a trillion ways to have fun with this great toy.  Even better, it comes in three different sizes, small, medium and large. And of course Adam and Eve want you to thrive happily with your sex life, so make sure to use the code PENELOPE to get, 50% off this toy, free shipping on your entire order, 3 bonus DVD's and a mystery gift!
So, you have tried it all, from the mundane to the extreme.  You have tried sex toys, sex clubs, and online sex.  You have played around with vibrators, dildos, anal beads, hard on lubes, nipple rings, anal probes and masturbators.  Have you ever thought about cock rings? You may be thinking, "why do I need a cock ring, I get hard enough on my own".  Well, wouldn't you like a harder erection and more staying power? Cock rings or penis rings are often overlooked as an amazing toy that will bring new levels to your orgasm.  And…. Your partner's orgasm.  The RingO Erection Ring set, will give you the advantage you have been craving.
Penis rings work in two ways.  The wearer gets a stronger, harder, erection that has staying power, while the receiver enjoys a hard, long, stimulating experience. This set of cock rings includes three specialized penis rings for variety, men love the boost in size and endurance from the penis rings, designed to fit all sizes from small to extra-large.  Cock rings are an excellent choice to bring new levels of excitement to your sex life. Use the check-out code PENELOPE to get 50% off and FREE shipping!
And finally, last but not least, you have to try the A&E Beginner's Power Pump.  No matter what your natural size is, this toy will bring out the HUGE in you.  Have a new Man in your life? Want to impress him with your length and girth? You will love this toy.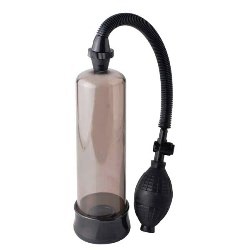 The A&E Beginner's Power Pump is the tool you need to create a harder, longer, fatter cock. Simply insert your penis and pump away.  Your partner will love your new fantastic hard on.  And of course, you can buy this toy on AdamandEve.com, use the checkout code PENELOPE, to get 50% off plus free shipping.
As I mentioned in the beginning, you can purchase all these great toys discreetly.  No need to worry about the pesky neighbors or the nosey roommates. Adam and Eve ships all toys to you in a discreet box and a discreet return shipping address.  Be gay, be proud, and have fun! I guarantee some mind splitting orgasms with these amazing toys.
Google+ Comments
Comments
There are no comments on this entry.
Trackbacks
There are no trackbacks on this entry.