Guide For Extreme Bondage: Sex Restraints
By now you have either read 50 Shades of Grey, watched the movie, or at least heard from your friends, in detail, everything about 50 Shades of Grey.  And, if you haven't, it is about lust, love, BDSM and of course sex restraints.  So what is a sex restraint? Well, it is any device in which a part, or several parts of your body or your partner's body is restrained in order to fulfill multitudes of sexual fantasies.
So, you ask, why would I like to use sex restraints in my bedroom? Has your sex life become mundane? Are you looking for a way to add "spice" to your relationship? Have you been fantasizing about something new, something different and sexy as hell? Then I think you are a great candidate to get into some bondage. Sex restraints can be used to isolate one or more of your body parts, increase your partners "access" to your nether regions, or you can tie down you partner in whatever your sexual fantasies desire. I will now guide you through some of my favorite sex restraint sex toys and how to get awesome discounts for each toy you would like to try out.  Enjoy!
Let's start with Adam and Eve's Scarlet Submission Kit.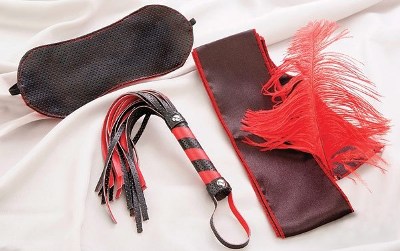 The Submission Kit comes with:
2 Restraining Straps
Your imagination is the limit with these convenient leather straps! You can fasten your lover's hands or ankles together to restrict their motions. You can tie your partner to a bed, shower rod or other object to limit their movement. The ability to restrain your partner and establish dominance over them is a crucial element for bondage games.  The Adam & Eve's Scarlet Couture Bondage Kit comes with 2 restraints, each measuring 2.5 inches wide and 38 inches long. Made from soft and sensual satin.
Flogger
A key item in any bondage collection, the flogger helps establishes dominance and discipline. The leather strips can be used for in a variety of ways – from playfully teasing your partner or for spanking them. And even then you can adjust just how hard you hit them from a playful flick to a stinging smack. The flogger can be used on its own – with your partner bent over a bed or lying on your lap. You can also use it combination with the blindfold and restraints for extra thrills. The flogger measures 11 inches long, not including the wrist loop handle on the end.
Blindfold
Once your partner slips the blindfold on, they surrender control to you and submit to your every whim – making it ideal for submission games and foreplay. Not being able to see naturally creates a sense of apprehension and nervousness in your partner. These feelings increase as you tease them to build up a sense of anticipation and mystery that will leave them gasping for pleasure once the fun finally starts. Losing the sense of sight helps strengthen your partner's other senses – especially touch. This makes even the slightest touch feel incredibly erotic and helps amplify the sensations of the flogger and the feather tickler to unimaginable levels!
Feather Tickler
Ideal for playful stimulation, the feather tickler is the perfect introduction to sensation games. The feather gently teases your partner's nipples or clit and even their ticklish spots. The tickler works best in combination with the blindfold or restraints.
Now, for the amazing offer! Adam and Eve would like to give you an awesome discount for trying this sex restraint.  Normally the Scarlett Submission Kit costs $29.95. Using the check-out code PENELOPE, you will get 50% off, Free Shipping, 3 free spicy hot DVD's, and the best part? A free Mystery Gift! So, head on over to www.AdamandEve.com and use to check out code Penelope to receive this amazing offer!
Up next, Beginner's Bondage Fantasy Kit.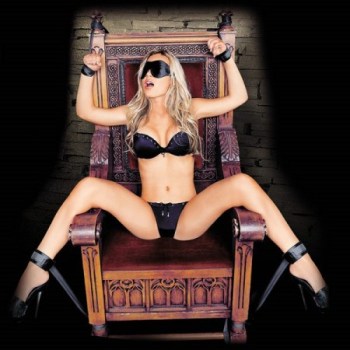 Tie your lover's arms and legs down to a bed or to each other for a variety of bondage positions and fantasies with this bondage kit for beginners!
The Beginner's Bondage Fantasy Kit comes with four softly padded restraints. These restraints slip on and off quickly and easily with Velcro for a comfortable and safe fit. Each cuff is attached to a 32-inch nylon strap, giving you plenty of leeway.
In addition to the four cuffs, the Beginner's Bondage Fantasy Kit also comes with a blindfold. The softly cushioned blindfold fits comfortably over your lover's eyes, leaving them completely in the dark.  This amazing kit is normally only $24.95, but use the code PENELOPE at check out to get 50% OFF, FREE Shipping, 3 FREE Bonus DvD's and….. a FREE Mystery Gift!
And finally, my all-time favorite sex restraint: Fetish Fantasy Web Restraints.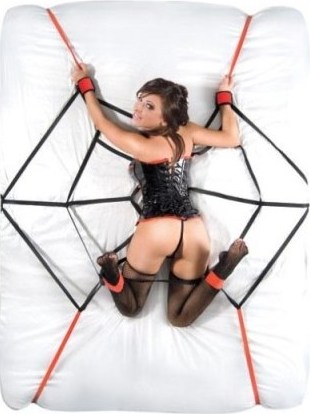 Why is this my all-time favorite restraint system? Let me tell you.   The Fetish Fantasy Web Restraint System takes your ordinary bed and turns it into a fantasy bondage sex web of seduction! This sexy red and black web's straps adjust to fit any size mattress. And a set of four adjustable neoprene cuffs let you play safely and comfortably in positions you never thought possible! Web-style bondage restraints system. Fits any size bed. Red corner straps slide under mattresses' corners and tighten to secure web. Set of 4 red and black soft neoprene cuffs. Cuffs attach to any part of the 'webbing' and can slide for limited movement and expanded positioning. 24 separate web lines Sets up and unfastens in seconds. Includes FREE satin love mask.
You don't need any special tools to use these bondage restraints – just your mattress. The Fetish Fantasy Web Restraint System is color-coded both for kinkiness and ease of use. Just toss your web onto the bed. Then grab any red strap and pick a corner of the mattress. The red strap slides underneath. Then repeat for the remaining straps and bed corners. Tighten the straps evenly, so that the black webbing is stretched securely out over your mattress. Setting up your bondage sex web is as simple as that.  And of course this amazing toy is normally $79.95.  But since you love Penelope, use my name, PENELOPE at check out to get 50% off, free shipping , 3 free hot DVD' s and a free mystery gift!  Now, I have given you every reason to spice up your sex life, using a few simple restraining devices.  No go get to it!
Google+ Comments
Comments
There are no comments on this entry.
Trackbacks
There are no trackbacks on this entry.