Miley Cyrus Flaunts Lil Kim Halloween Costume
Hats off, or in this case, wigs off, to Miley Cyrus for setting the Halloween costume bar high by paying homage to Lil' Kim's infamously sexy 1999 Video Music Awards ensemble.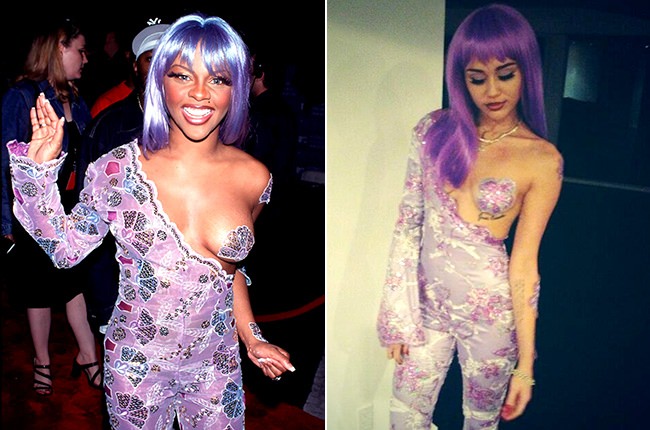 Miley Cyrus dressed as Lil Kim for a Halloween party Wednesday night (Oct. 30), complete with a lilac nipple pasty. Cyrus, who admitted to Billboard that not only is Lil' Kim one of her favorite artists, but "on the inside" she sees herself as a replica of the female MC.
Cyrus copied Kim's look from the 1999 Video Music Awards, when the New York City rapper wore a one-sleeved mermaid-inspired jumpsuit with a nipple pasty over her left breast, and a purple wig. It was undoubtedly one of the most memorable moments in VMA history (Diana Ross even jiggled her boob), so it makes sense that the 20-year-old would choose the look.
And when Cyrus donned the sequined outfit, a bright purple wig and a strategically placed purple pasty, the look was so spot-on that the rapper herself gave her seal of approval.
"Awwww. Look at my baby @mileycyrus tonight!!! Looking GORGEOUS!!!" Lil' Kim tweeted. "I wish I was there to squeeze your boob


Love U so much !!!! #mytwin."
Go to www.AdamAndEve.com and use coupon code PENELOPE at checkout to get 50% OFF on almost ANY item plus 3 FREE Hot DVDs, a FREE Mystery Gift and FREE Shipping on your entire order!
Google+ Comments
Comments
There are no comments on this entry.
Trackbacks
There are no trackbacks on this entry.