A Visit From a Friend
My friend from back home flew out to Vegas this week to spend some time with me. Macey had never left the small town in NY that we grew up in, so her culture shock on arriving in Sin City was about on par with mine when we got there. The first night, we decided to get all dressed up and head out to the night clubs with the girls that I work with. Of course we went to what I think is the best one in the city, Rain Nightclub at the Palms. We got dressed in our sexiest dresses, grabbed a taxi, then headed out to the club around 11pm. The look on Macey's face was just unreal when we got in and saw all the people at the club. They were all dressed in the most amazingly to-die-for outfits, and we danced and drank our butts off until around 5am.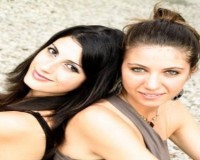 I had taken the next couple of days off, and with us both nursing a major hangover, we decided it was probably best to spend the day by a pool. Macey was staying where I work, so we got a daybed by the pool and lounged for the day in the sun. I could tell that she was feeling better when she started asking me all sorts of questions, including the one I get asked all the time, if I had ever seen anyone famous. I told her that I think I had, but I wasn't so sure. I explained the whole porn-star affection for the hotel that I worked in, and that I had probably seen famous adult stars before, but since I had never watched one, I didn't know who they were. Every once and a while, one of my co-workers would say something like, "Oh wow – that's Carmen Luvana", or "Look look look! It's Sasha Grey!!!", but me being as clueless as I am, hadn't an idea who they were. Add watching porn to my to-do list, me thinks!
"image is a copyrighted photo of model(s)"
Google+ Comments
Comments
There are no comments on this entry.
Trackbacks
There are no trackbacks on this entry.