Do You Like Group Dating?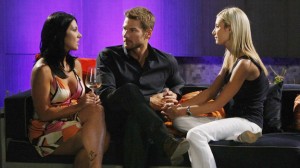 When my new boyfriend and I first met last year, I remember that we talked about watching DVD at my place or his but we changed our plan. We never really had a chance to watch even after we started dating. But last night, Mr. B opened up how he wanted to spend more time with me during weekends and he began telling me about what we could do and this includes watching DVD. Since we both live with roommates, it's kind of awkward to bond while the roommate is around. So we decided to talk to our roommates who also got their partners, if we could have a double date.
I haven't met his roommate yet but I believe he already met Jen once or twice. Although I agreed, I don't know, I have a bad feeling about this. It's not about awkwardness, not even about the confidence I have for our relationship. But I don't know. I have done group dating with my exes before but it was totally different. I knew most of them way back in Georgia so I already knew how to deal with them, what to say, and what not. But personally, to be really honest, I don't like it. Especially that my boyfriend and I just started this new relationship last week. It was probably okay if we're all friends or we know each other for long already. Ugh, this is one of the problems when you don't have your own place.
Oh well, I shouldn't really worry about it coz we it's just a plan, no decision is final yet. I think what I should really worry about is the possible thing that would happen after our date. Hahaha! It's going to be our first time to spend our moment at his apartment or mine. And you know what could possibly happen. I don't really have to tell, right? 😉
Google+ Comments
Comments
There are no comments on this entry.
Trackbacks
There are no trackbacks on this entry.