Get Sexier Sex Using Your iPhone
You can actually have sexier sex using your iPhone. How? Checkout the following tips from The Stir on how useful iPhones can be, most especially on matters of sex.
1. Learn new positions
No need to scour the sex section at your local bookstore. Snatch up an app, like Kamasutra Sex Positions, and you'll get all sorts of interesting sex positions right at your fingertips. Just make sure your phone has a password lock!
2. Read erotic romance
Who needs to lug around the paperback copy of 50 Shades of Grey when you can pop it on the Kindle app right on your phone? You can get everything from short stories to full novels so you can read them wherever you are, whenever the mood strikes you.
3. Plug in your vibrator
The OhMiBod vibrator actually plugs into your iPod or iPhone and vibrates to the beat of your music. Just load up some sexy songs and you'll be on your way.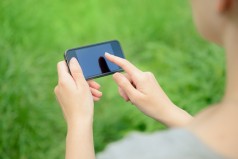 4. Do your kegels
We all know kegels can help you have better orgasms, but who can remember to do them? The Kegel Camp app will actually send reminders to you so you never forget to do your daily squeezes.
5. Send sexts, safely
As much as the SnapChat app is questionably for the teen set, it's a fun way for you to send sexy videos to your partner or spouse. As you may have heard, they disappear forever after 10 seconds. And if someone tries to take a screenshot, you're notified.
6. Watch a sexy movie
While you won't find truly racy movies, I use the Amazon Instant Video App all the time to watch some of my favorite "softer" sexy movies. Is it just me, or does the end of Pride and Prejudice get you every time too?
Get more of these at TheStirMom.com!
"image is copyrighted photo of model(s)"
Google+ Comments
Comments
There are no comments on this entry.
Trackbacks
There are no trackbacks on this entry.