Sex Role Playing Ideas For A Fantastic Sex
Sex role playing always make sex new and exciting.  Sex role play spice up the bed scene and assures a more intimate and fantastic sex. If you're out of ideas of what sex role play you want to have with your lover, checkout some of the role playing ideas from Cosmo below.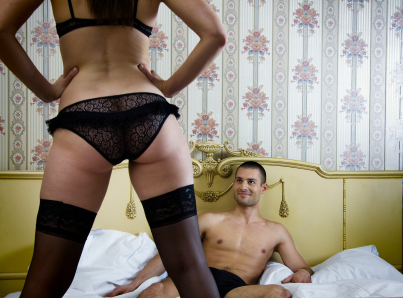 Channel Jennifer Lawrence
Watch a sexy movie together, then act out one of the steamiest scenes as the characters in the film. Already having the visual of who you want to become and what you're going to do to each other can increase the anticipation and ultimately your arousal. Silver Linings Playbook is a good bet that's out now, or rent Secretary for a kinkier option.
Make a Booty Call
If you're in a committed relationship, occasionally pretending you're casual f— buddies lends sex an edgy feel. You can screw the romance and tenderness for now, and just get dirty.
Act Like a Princess
Between Once Upon a Time and movies like Snow White and the Huntsman, fairy tales are hot right now. They're also great role-play inspiration because they blend eroticism and danger: You're the virginal princess, and he's the prince charming trying to rescue you from the evil queen.
Unleash Your Wild Sides
This may sound wacky, but go at it like you're animals—for example, a lion and lioness out in the savannah. It can help you let loose of inhibitions and get ultra wicked between the sheets.
Go the Distance
There's truth to the phrase, "Absence makes the heart grow stronger." When there's an obstacle to reaching your sig other, it heightens erotic tension. So even if you live together, role play that you're in a long-distance relationship: Head to different rooms and have urgent Skype sex.
Do it By the Book
Take turns reading aloud a passage from an erotic novel (like your favorite Fifty Shades scene) or from Cosmo's "Red-Hot Read." Replay it on your own, as the characters.
Be His Teenage Dream
Remember what it was like to feel giddy in love (or lust) when you were a teen? Pretend you're in high school again, and your man is your biggest crush. Do something nostalgic like go to the mall or a movie together, then when you get home, recreate that excited yet awkward experience of hooking up for the first time.
Have Superhuman Sex
Bring the superhero trend into the boudoir: Batman and Catwoman, enemies with a strong sexual tension; or Superman and Lois Lane, who's held hostage by the bad guy. The best part of this scenario is the costumes—go all out with a skin-tight catsuit, thick black eyeliner, or even a mask. When you look totally different than usual, you'll feel different too…and being able to escape the same-old, same-old is what makes role play so freaking naughty.
Read more at Cosmopolitan.com!
"image is a copyrighted photo of model(s)"
Google+ Comments
About the Author

I'm Penelope and I'm living a sexy lifestyle. Help me out by buying something at www.adamandeve.com and use my offer code PENELOPE to enjoy great discounts and awesome offers! :)
Related Posts
There are no related posts on this entry.
Comments
There are no comments on this entry.
Trackbacks
There are no trackbacks on this entry.