Sex Themed Christmas Presents For Him
Wanting to give your sweetheart the best and the sexiest gift this holiday season? Found an awesome article from SheKnows.com  that features some of the most seductive and enticing sex themed Christmas presents for your guys.  Check them out below and choose what kind of present you will love to give him this Christmas.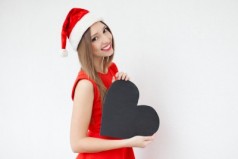 The "12 Lays of Christmas" Pack of Gum
OK, so technically a 12-pack of gum in a plastic-bubble pack is, what, a buck? But you probably have one lying around anyway. Grab it and then print out these instructions (from the blog Love, Actually) on what exactly you have in store for your partner over the next week and a half.
A Sultry Striptease
Have a shot of whiskey-spiked eggnog, cue up your MP3 player's speakers, plant him in a chair opposite you, and give him the dance of his life.
A Plain Old Gift Certificate for Sex (redeemable anytime)
Talk about cheap: You can literally make a sex gift certificate using the back of an envelope, newsprint, spare wrapping paper… whatever you have lying around. Because once he reads what's involved, all he'll remember is the message, not the medium.
"Housewife" for a Night
Do a quick check of the pantry and find the ingredients for a batch of brownies or other baked treat, then surprise him with your homemade goodies… and you, wearing an apron, heels and perhaps nothing else. He'll get a kick out of being serviced, so to speak, and it's fun to playact.
Shoot a Series of Racy Photos — for his eyes only
Everyone can look like a model by snapping self-portraits with the myriad of camera apps available for download. Even if you're shy about showing your face, try focusing on a piece of out-of-place lace, a high-class heel mere seconds from dropping to the floor or a shot of crossed curvaceous thighs. (Just don't accidentally upload them to Facebook.)
X-rated Skype Session
We love Skype for many reasons, but at the top of our list is the fact that it's free. For this gift, you're the girl on film, and he's the lucky viewer, whether he's on a work trip or in the next room. Treat him to a full-on virtual sex session, or just flash him some carefully selected body parts and your naughtiest poses. For him, it'll be like a skin flick coming to life — and better yet, he'll come home to you in the flesh later.
Read more at SheKnows.com!
"image is a copyrighted photo of model(s)"
Google+ Comments
Comments
There are no comments on this entry.
Trackbacks
There are no trackbacks on this entry.