Spice Up Your Solo Sex Routine
Spice up your solo sex routine and try out some racy new moves from Cosmo. Who knows? You might turn out to be the best lover you've ever had.
Carlin Ross, sex educator and master-bator shares six ridiculously sexy tips to jazz up your solo playtime. So lock the door, unplug the phone and put on some sexy tunes (we've even made a masturbation mix for you!), because tonight you're all yours, ya hot slut!
1. Ice, Ice Baby
Grab a dish of ice and carefully select one ice cube at a time. Rub it all over your nipples and your clit, imagining that the cold sensation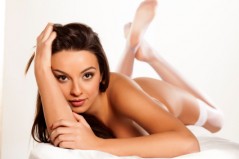 is a lover's bite. You can even use a cube to stimulate yourself, like a vibrator. As your body heats up, the ice will melt all over your body for an unbelievably erotic orgasm.
2. Audio Erotica
Audible now has an entire erotica section. Listening to an audio book like 50 Shades of Grey or The Story of O while you play the clitar is a sure-fire way to turn up the heat. Just download the book onto your phone and put it on speaker and let the smutty story carry you away.
3. Do it at Work
One time I was really horny at work and I couldn't take it anymore. My crotch was on fire and I had to take action! I went into the women's bathroom at my super corporate job, jumped into a stall and started going at it. As my co-workers were washing their hands and freshening up, I was getting myself off standing up. I had to be super quiet and stealthy with my movements so I wouldn't get caught. The fear of being exposed and the element of danger made it insanely hot.
4. The Ocean Isn't Just For Peeing
Next time you're at the beach, go for a swim and search for buried treasure…in your pants. No one will know where your hands are or what they're doing. Plus, you don't need any lube, the ocean is your lube!
5. They Might See You
The element of getting caught, which we mentioned in number 3, is very arousing. One summer, I made myself a picnic in the park and no one was around. I was laying on the grass on this perfect sunny day and I lifted up my dress and started masturbating. After a couple of minutes, I realized that right next to the park was a huge golf course. I could see men this group of men playing golf, but because I was sort of hidden behind a tree, they couldn't see me. Watching them was a total turn-on because it gave me this sense that I was doing something naughty and could get busted at any minute.
6. Smile For the Camera
In this era of smart phones, everyone wants to be a porn star. Set up the camera on your phone and start recording so you can watch yourself as you climax. You can re-watch the tape anytime and even start using it as part of your fantasy. Just don't break up with yourself and then leak the tape!
Read more awesome blogs at Cosmopolitan.com!
"image is a copyrighted photo of model(s)"
Google+ Comments
Comments
There are no comments on this entry.
Trackbacks
There are no trackbacks on this entry.