The Best Gift For Your Sweetheart This Christmas: Santa's Coming Gift Bag
This could be the best Christmas gift you can give for your partner! – Santa's Coming Gift Bag.  This bag is pack of all wonderful Adam &  Eve goodies your sweetheart will surely love.
Checkout below and see what your lover could get with Santa's Coming Gift Bag.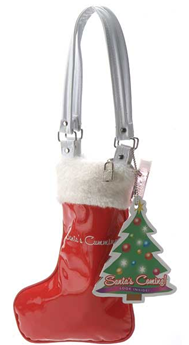 Santa's Little Helper Vibrator – The discrete and playful vibrator is ready-made for teasing your lover's most sensitive spots, especially the nipples and clitoris. Plus, this finger vibrator is even small enough to pack for any overnight trips to see the family! Batteries included.
Evergreen Egg Vibrator – Larger and more powerful than Santa's Little Helper, this egg vibrator is all you need to get the job done. And you can even slip it inside your pussy for stronger stimulation!
Mint Love Plug – Slim and sturdy, this butt plug slides in easily and stays firmly in place for any backdoor games you might play.
Love Beads – Just slide these love beads inside your pussy for a delightful fulfilling sensation. The beads even help tone your Kegel muscles, giving you stronger orgasms and making your pussy feel tighter than ever!
Berry Cock Ring – Known as the ultimate sex toy for couples, the cock ring fits snugly around the base of his penis – restricting blood flow for a thicker and longer lasting erection.
Holiday Treat Edible Body Paint – The body paint lets you express your artistic side with some erotic doodling… before you lick your lover clean!
Flavored Lube – This flavored sex lube makes oral sex extra tasty while still giving you that sleek feeling you love.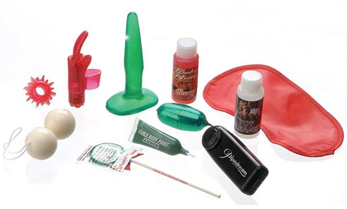 Satin Blindfold – The Satin Blindfold helps intensify foreplay. Everything you do comes as a complete surprise, making it that much more sensual and erotic. And by cutting off your lover's sight, their other senses become stronger – making even the smallest touch becomes incredibly erotic.
Dirty Santa Pen – A terrific gag gift, the Dirty Santa Pen looks like any regular pen… until someone clicks it and Santa's cock pops out!
Condom Lollipop – Another great joke item! Just pass it out with a bunch of regular lollipops at a Christmas party and watch the lucky person's face when they realize just what they got!
And much more!
Buy Santa's Coming Gift Bag at AdamAndEve.com and use Offer Code PENELOPE at the checkout to get 50% DISCOUNT plus 3 FREE Bonus DVDs, a FREE Mystery Gift, and FREE Shipping on your order.
"image is a copyrighted photo of model(s)"
Google+ Comments
Comments
There are no comments on this entry.
Trackbacks
There are no trackbacks on this entry.