When Should You Have Sex?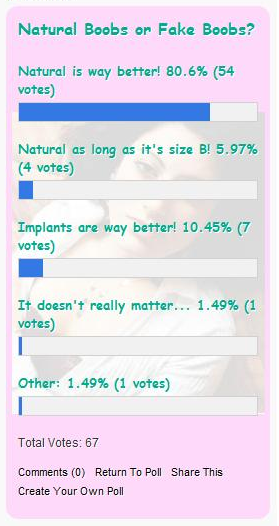 I made a poll two weeks ago about "Natural or Pornstar Boobs?" and I'm glad that 67 people participated! And I'm glad to know that 54 of these votes went to Natural is way better! I started this poll because my friend Brandy wants to have a boob job. She thinks every girls nowadays get it, it's a trend and it's most guys want. She also thinks she's not beautiful and sexy enough until she gets one. I told her it's not true so I created that poll. I'll call her within the week to tell her the result, haha! I still want to convince her not to get one but in the end, it's still her decision that matters.
And because a lot participated in my last poll, I thought about creating one each week. It's interesting to see other's opinion about issues these days. "When Should You Have Sex?" is my latest poll because of my recent post about the new guy I'm dating: Sex on The Third Date. You're probably familiar with that rule but I'm not sure how many of you follows it. So please vote on the right side of my blog! And your comments are appreciated! It inspires me to write more. Thank you all!
Google+ Comments