Intimates Personal Pleasurizer G-Spot Vibrator
This small yet powerful G-Spot vibrator provides amazing internal massage along with incredible clitoral stimulation at the same time!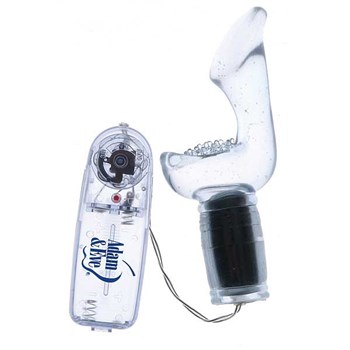 Compact enough to guide with one hand, the wide tip is tilted on an angle to slide in easily and right up against the G-Spot. The cup beneath the vibrator's short shaft is filled with lots of small flexible ticklers and a thick raised front edge. These two details combine to treat your clitoris to pleasurable sensations as you move this hot little sex toy in and out. Directly beneath the shaft and clitoral cup, a powerful egg vibrator transmits vibrations up the shaft and throughout the toy with easily adjustable speed.
The clear jelly material is soft and flexible for comfort, while still being firm enough for erotic exploration. The lower part of the toy makes an excellent handle, even if hands are slippery, enabling the user to relax and guide the tip to the G-Spot. Compatible with all types of lubricant, try it along with your favorite brand for silky smooth fun!
The dial controller, directly wired into the toy, is easy to use with just a fingertip, freeing your other hand to position the vibrator right where you want it. Just turn the dial to the left or right to enjoy any setting from a gentle purr to a climax coaxing buzz.
The short stem makes this an ideal toy for first time sex toy users, or those who are looking to discover the wonders of G-Spot play. The angle and length ensure you'll hit the right spot every time, while the clit ticklers offer a little extra sensual sizzle.
So, grab yours now! Just use coupon code PENELOPE at AdamAndEve.com checkout to get 50% OFF on almost ANY single item plus 3 FREE Sexy DVDs, a FREE Mystery Gift and FREE Shipping on your entire order!
Google+ Comments
Comments
There are no comments on this entry.
Trackbacks
There are no trackbacks on this entry.