Extreme Toyz Collection
You Need An Extreme Toy Collection To Enjoy Extreme Sex!
Filled with a wide range of sex toys (including anal, couples and vibrators), this huge sex toy kit is just what you need to fulfill your fantasies… no matter how dirty they get!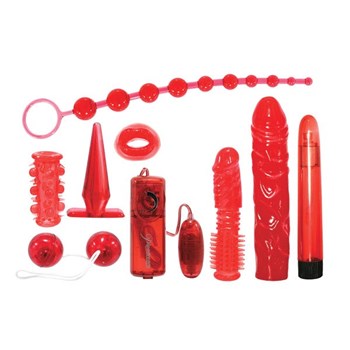 The Extreme Toyz Collection includes:
Multi-speed Vibrator
Everything a woman in need of a little alone time could want, this vibrator is perfect for masturbation and foreplay. The long shaft is perfect for delivering vibrations deep inside her, while doubling as a nice body massager. Measures 6.5 inches long and 1 inch wide. Powered by 2 AA batteries, sold separately.
Waterproof Multi-speed Egg Vibrator
Perfect for teasing her clit and nipples, the egg vibrator is great for foreplay. The small shape helps focus vibrations for maximum arousal and pleasure. And you can even use it with other sex toys in your collection to give them new life. Just twist the dial controller to vary the vibrator's speed from low to high… and everywhere in between! And the egg vibrator is even waterproof so you can enjoy it in the shower or tub for extra fun. Powered by 2 AA batteries, sold separately.
Realistic Dildo
This large dildo is shaped like a penis for a more lifelike experience. The penis-shaped tip makes penetration easier, while the raised veins running all over the shaft tease and stimulate your vagina with every thrust. The dildo is firm for easy insertion, but flexible enough to adjust to your body's natural curves. Measures 6.5 inches long and 1.5 inches wide.
Ben Wa Balls
Made for Kegel exercises and low-key stimulation, the duo-tone balls are the kind of sex toy you can wear all day… even to work and around town! The two balls pop easily inside your body. Once inserted, you can use them to tone your Kegel muscles just by squeezing and contracting them. A daily Kegel exercise routine will help tighten you up and give you stronger orgasms. As a bonus, each ball has a special weight inside that moves as you do – gently stimulating your vajayjay all day long until your panties are soaking when you finally get home! Note that the balls are more effective if you move a lot – so they perform much better when your jogging than sitting behind a desk.
Anal Beads
This 12.5-inch long string is the perfect introduction to anal sex. The beads start out incredibly small at just 0.25 inches in diameter, and they gradually increase in size, maxing out at 1 inch across. As you become more comfortable with anal penetration, you can fit more and more of the increasingly larger beads inside. And when you finally reach that last bead, you're ready to move up to the next level of anal toys – butt plugs and dildos! For your safety, the anal beads come with pull ring on the end so you can remove them easily.
Butt Plug
The next step in anal stimulation, this slender sex toy slips easily inside your backdoor with just a bit of lube and experience. The 4-inch long shaft starts out extremely narrow before expanding to an inch across and then shrinking again. This unique shape helps you hold the butt plug in place with your sphincter ring so you can enjoy anal penetration even during sex. And the T-shaped base, ensures you don't accidentally insert the butt plug too deep – saving you an embarrassing doctor's visit.
Penis Ring
Soft and stretchy, the lip-shaped penis ring can fit almost any sized man. Just slip the penis ring around the base of his shaft to enhance both of your sex lives. The snug fit of the ring limits blood flow from the penis, giving him a boost in girth and length. At the same time, the unusual feeling of the penis ring helps delay ejaculation so he can perform for longer than ever before.
Penis Sleeves
These two jelly sleeves, similar to French ticklers, slip around his shaft for extra stimulation. The longer sleeve fits around the tip of your shaft and features a realistic tip for easy penetration, ribs to massage your G Spot and ticklers around the base to tease your clit and lips. The shorter penis sleeve hugs his shaft to boost his girth and increase her pleasure with a variety of large pleasure nubs and ticklers.
Spice up your sex life! Don't forget to use coupon code PENELOPE at AdamAndEve.com checkout to get 50% OFF on almost ANY item plus 3 FREE Hot DVDs, a FREE Mystery Gift and FREE Shipping on your entire order!
Google+ Comments
Comments
There are no comments on this entry.
Trackbacks
There are no trackbacks on this entry.