Saving Marriage thru Adult Movies and How-To Videos
I just had a wonderful vacation with some of my girlfriends from Georgia on one of the hottest spots in Vegas.  They insist to have some time with me alone and after several months of begging, I finally said "yes".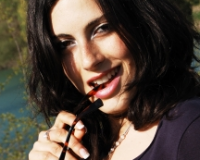 It was then that I realized I needed a vacation after all.  Need a break from long hours of work and I need a bit of inspiration so I can reach out for more people who now cling to what I can offer in my Facebook page.
My so-called vacation break turned out to be a marriage counseling affair and a business spree. Indeed, if you are into business, you carry it almost anywhere.  A friend of mine who is now married with two kids seems to have a total makeover from hell.  The sexy and gorgeous Lisa now droopy and appears to be almost 10 years older.  My messianic attitude and love for a friend then urged me to help Lisa in any way.
Lisa told me that her daily routine as a mother and wife ruled over her and this vacation was her first time for 7 years.  I told her I'm happy to see her finally breaking free from her boring routines and very determined to bring back her old life.  Being a mother and a wife does not bother Lisa at all, what matters most is that she suspects her husband is having an affair as she got no time with sex and romance any more.
It was totally heartbreaking.  Seeing that Lisa is madly in love with her husband, I believe that the painless thing to do is to help her save their marriage. After series of discussion, makeovers, etc., I handed over some of my Adam & Eve Adult DVDsand How-To videos (I carry these always for product demo and sampling). Told her she can borrow it and if she wants to have her own, she can buy through me.  I was hoping that the movies and the videos will help Lisa regain her sensuality that would make her husband stay with her for good.
Everything went well.  A brand new Lisa left the venue with high hopes that she can save her marriage and finally, live a more romantic life with her husband and kids.
I never thought that my long posessed Adult DVDs and How-To video samplers would turn out to be a helpful marriage counseling tool.  Indeed, sex toys, sex videos and some sex stuff doesn't always mean pleasure, it can also save and improve relationships.
Want more of those Adult DVDs and How-To Videos?  Check out below…
Adult DVDs
Bad Seed DVD Collection #2 DVD
Get 3 of our hottest DVDs!
Over 6 Hours of Action!
From innocent amateurs to anal pros, this collection offers some of the very best titles in Bad Seed's library!
Montana Fishburne DVD
A-List Actor's Daughter Makes Her XXX Debut!
See the scandalous tape everyone's talking about! Freaky Montana Fishburne used to be Daddy's little girl, but she's all grown up now!
How-To Videos
Nina Hartley's Guide to Double Penetration DVD
Double Penetration 1.When a woman has sex with 2 men, with one dick in her vagina and the other in her ass!
Nina Hartley's Advanced Guide To Oral Sex DVD
Nina's going down … on her friends! If you think you know everything about giving and receiving oral sex, think again!
Want more of these? Check out the AdamEve.com site…
"image is a copyrighted photo of model(s)"
Google+ Comments
Comments
There are no comments on this entry.
Trackbacks
There are no trackbacks on this entry.