Working Girls
I've met a lot of working girls since moving to Vegas. I have to admit, the first time I saw these ladies picking up the guys at the hotel bar, I was a bit put off by the whole thing. These girls had sex for a living. Just like the porn stars I see all the time, these girls were insanely confident with their sexuality. I think my negative attitude was just jealousy, to be honest. I've been trying to come to grips with who I am (sexually), what I enjoy, what toys are used for what, and here go these women who are younger than I am, with complete confidence.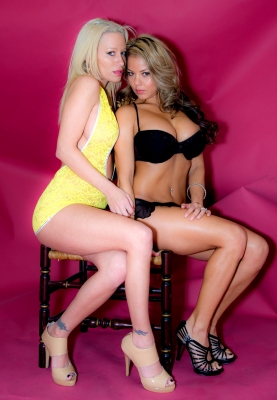 I wonder what it would be like to be a working girl for one night? I bet they get some really strange requests. A few of the ladies carry around a big handbag. I would think that they have a few sex toys in there that would help the guys out. One of the porn stars I talked to told me about penis sleeves that help a guy get it up when he's anxious. She had to explain what they were – I never in a million years thought you could by penis extensions if the guy wasn't big enough!! She said she'd bring hers by the next time she was shooting at the hotel, for me to check out.
So, back to these escorts. I wonder who knows more about sex- escorts or porn stars? I mean, they both must have a whole lot of experience with guys, but the porn stars have to worry about the camera and all that? Hmm.
"image is a copyrighted photo of model(s)"
Google+ Comments
Comments
There are no comments on this entry.
Trackbacks
There are no trackbacks on this entry.