Valentine's Day Poll Result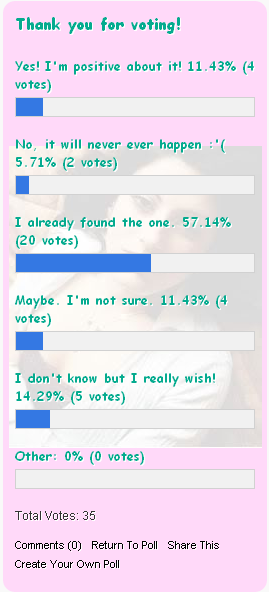 This is the result of the poll question I created and it shows that most of those who voted already found the one. It got 20 votes or 57.14%. 5 voters aren't sure but they're really wishing, 4 are positive about finding love before Valentine's day, also 4 people answered maybe, and 2 people voted for no, it will never happen.
If this result is based on all people in the world, it would show that a lot of people wouldn't really be loveless on Valentine's Day and I'm one of them. I believe that the world would be a so much better place to live in if all people are in love and wouldn't think any harm to others. All people would only think of happiness, positive vibes, helping other people and such kindness. There would be no prisoners and all would be free from darkness ad sins.
I wish that all people who already found love in their lives (including myself) would be able to continue loving and that we may share this love to others, to the needy, to the abandoned. I wish that those people who are still looking would already find the love and that they won't get tired of it. And for those who are in doubt, and who doesn't think they could find love, may they find the truth, let all your heart out and be free from all the negatives. Oh how I wish.
Oh love, love, love. How could you be so selfish to others? 😛
Google+ Comments
Trackbacks
There are no trackbacks on this entry.