Do You Reveal Too Much?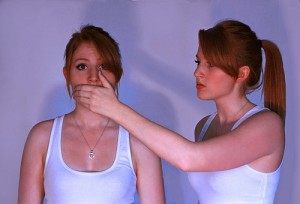 After posting my post before this one, I got concerned about what I share in public. One of the reasons why I started this blog is because I want an outlet. I am not this open to my friends or anyone. I was wondering if I am sharing too much or not. I went through my old posts and I believe that I shared not even half of me yet, lol.
I took another quiz from Cosmo and thank God this is what I got!
Discreet Disher. You're the perfect blend of open-book friendliness and cool reserve. You know it's fun to trade dish, but when it comes to others' dirty laundry, you're discreet. You value people's secrets and have the restraint to keep them to yourself. Sure, when a pal occasionally drops a bombshell, you find the right source to confide in if you need support (hey, you're only human). But you know that swearing someone to secrecy after revealing a tasty tidbit doesn't ensure that it won't be repeated – in fact, it probably will, warns Debbie Magids, PhD, a counceling psychologist in New York City. That's why you often wind up holding your tongue.
Plus, you're aware that keeping personal details under wraps is wise, like being playfully vague about your feelings with a new guy or not mentioning a past work hiccup on a job interview. "You also pick up on cues from other people," says Don Gabor, author of Words That Win: What To Say To Get What You Want. "You'll wait until they disclose something before you do so you don't overstep."
You have a knack for being diplomatic, too: When a busybody prods you about your salary or sex life, you subtly shift the convo without snubbing her. Bottom line: You know you don't need to fill in every blank for everyone.
But what do you think? Am I revealing too much? How about you?
Google+ Comments
Comments
There are no comments on this entry.
Trackbacks
There are no trackbacks on this entry.