Erotic and Sexy Ways To Play With Your Boobies
Who would not love boob sex? There are ways to caress, play with and have sex with your boobies. Cosmo recently published some tips from Olivia St. Claire, author of Naughty or Nice Deck, on how to make out with your boobs that most erotic and sexy way. Check them out below!
Spice Girl
Dab a little cinnamon leaf oil (or cinnamon oil mixed with a couple drops of olive oil) onto your nipples and then ask your man to blow on them for a pleasurable tingly feeling.
Wet & Wild
While your man is watching, stroke yourself south of the border and then massage your own natural lubrication onto your bare breasts.
Going Grey
Nipple clamps are one of the kinkiest sex toys out there. Not only do they look wickedly erotic, they also render your nips ultra sensitive, so even the slightest touch feels intense. That, in turns, causes you to react extra passionately to whatever he does, making him feel like a sex superstar. Everybody wins!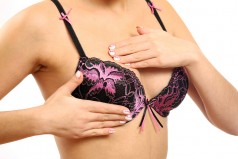 Play Dress Up
Not really into the whole S&M thing? Pasties are a slightly tamer way to sex up your rack. There are a ton of hot options out there, like these sexy twinsets.
Dessert Time
Put a dollop of whipped cream on one of the girls, and caramel sauce on the other. Have him lick them in succession to get the full taste sensation. (Another yummy combo to try: chocolate sauce and Kahlua.)
Hot Shot
Have him gently massage your girls with lube or lotion, and then slide his penis back and forth between them. (You can push your breasts together to create a tighter fit.)
Cups Runneth Over
Leave your bra on during girl-on-top sex. At a particularly intense moment, pull down the fabric to expose your cleavage. They'll pouf up and spill over the underwire support.
Breast. Massage. Ever.
Treat him to a rubdown…using your nipples. Because they contain genital corpuscles, touching him with your breasts will get you both hot (you'll feel the sensations reverberating in your honeypot). Start by caressing his lips with your breast tips, and allow him to lick you. Next, move south and press your headlights into his, circling them around. Then glide them all over his body, paying special attention to nerve-rich crevices: the hollow of his neck, his naval, the crease between his thighs and pelvis, between his toes, his backdoor, etc.
Ice, Ice Baby
Have him put a few ice chips in his mouth and then suck on your breasts. The temperature tease of hot tongue plus the cold ice makes your twins ultra sensitive, and triggers your nipples to hyperextend—a crazy-sexy visual.
Good Vibrations
Glide a bullet-style vibrator over your breasts while he watches.
Honey, Honey
Drizzle honey from your breasts to your belly button. Then blindfold him and dare him to find him the sweet treat using only his tongue.
Show Time
In cowgirl position, play with your breasts (or have him fondle them) to amplify the sensations you feel there while also giving him an eyeful. A few techniques to try: Pinch your nipples and roll them between your fingertips. Use the pad of your finger to rotate them in circles. Rapidly tweak and release them. Lift and squeeze each breast, and then push them together. Lean forward to dangle them over his chest, increasing blood flow to your nipples. Rub them in his face, and let him taste a nipple.
Get more awesome tips at Cosmopolitan.com!
"image is a copyrighted photo of model(s)"
Google+ Comments
Comments
There are no comments on this entry.
Trackbacks
There are no trackbacks on this entry.