My First 2011 Date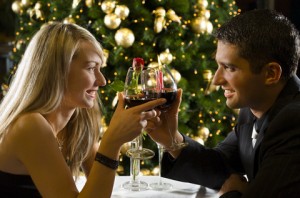 It's been almost two months! I'm talking about this guy I'm only dating with since I moved here in Vegas. I think I would give him a codename "Mr. Banana" because he said it's his favorite fruit. Although I doubt about him for so many times, he never stopped pursuing me. He never stopped caring about me. I forgot about him for a while especially when I saw my ex again. I got even confused about my feelings for both Mr. Banana and my ex for days. It's always the hard part of being in demand, lol. But seriously speaking, I've been thinking for days that if I have to choose between him and my ex, I would better go for him than go back to my ex who caused me pain for a long period of time.
Yesterday, Mr. Banana and I dated again. We ate at a seafood restaurant that is just a few blocks from my work. I don't know, but I felt a different feeling for him, more deeper perhaps. But I wouldn't deny that I was also thinking about my ex boyfriend. He sent me a text message if I already ate dinner, and I said "yes, with my roommate". I don't know why I still deny that I'm already dating someone else. I don't know why I still think about him when I should be focused with my date.
But after a few hours, Mr. Banana said something to me that got me thinking… that got my eyes focused to his mouth and everything he was saying… He gave me a certain feeling that I haven't felt for a long time…
Google+ Comments
Comments
There are no comments on this entry.
Trackbacks
There are no trackbacks on this entry.