My First Date in Las Vegas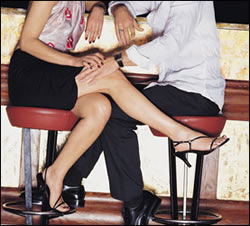 My date last Friday wasn't really the best of all the dates I've had but I enjoyed it. It was probably because he's my first date since I moved here and most of my past dates were only in our little Georgia. I wore a red dress, black sandals and a pearl necklace that was given by mom when I turned 18. He picked me up at around 6:30 PM and he said I look stunning. Although I said I don't think so, I knew in my heart that I really was stunning haha!
His cologne turned me on so much the whole time that we were together. We ate at a fine Italian restaurant along Sahara Ave. The food was great and for someone who loves cooking/eating, I could say that he got a good taste. I enjoyed talking with him and unlike the first time we met, he let me talk more by making me answer too many questions. The good thing about it was I felt comfortable talking about my life. I'm a kind of person who doesn't talk too much especially to a new person because I write more often about my life. But he made it sure that I'm okay with his questions and that I'm comfortable with him.
I learned a lot about his life too but I'll share it later on. We talked for hours at the restaurant, ordered wine and dessert and laughed about anything that we didn't notice it was already almost 11PM. I told him ahead of time that I couldn't watch movie coz I had to look for job the next day. He said it's okay coz he understood how it was like moving to a new city. That's when I found out that he's not a Vegas native.
I think it's just funny how we talked about sexual things over the phone but neither of us dared to speak about the topic. I think I wanted it that way though, I'm still attracted to him no matter what.
By the way, we didn't kiss. I think we both like to take it slow this time. 🙂
Google+ Comments
Comments
There are no comments on this entry.
Trackbacks
There are no trackbacks on this entry.