Should I Get Back With My Ex?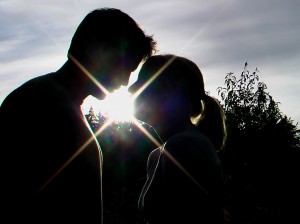 This question occurred to me when my roommate brought my ex to our conversation yesterday. For some reasons, I didn't say no. I just said I'm not sure. It is because ever since I planned about going back to Georgia, I started to think about him more often . He is one of my reasons why I moved here, but I know that I've completely moved on. I'm already dating this new guy and I also plan to stay with him. Now it makes me so confused.
When I moved here, I changed my number and everything because I wanted to start a new life. But my ex boyfriend tried to find a way to contact me. I didn't even tell him that I was moving here. We had a terrible breakup but we tried to fix it that's why we're still friends until now.
If you've been following my blog, you have probably read my post about "Are You Obsessed With Your Ex?" and I said that I'm better off without him but I think he is obsessed with me. He told me that he also wants to move here in Vegas so we could be together again. Ugh!
I don't know. But I'm actually excited about seeing him. Even if I haven't told him yet that I'm going back to GA, he will find out eventually because we have common friends that will surely tell him. I would admit that I miss him, I want to see him. Well, who knows, we'll find out when I get back from GA. 😀
Google+ Comments
Trackbacks
There are no trackbacks on this entry.