What is Your Sexy Name?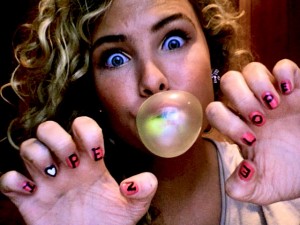 One of my few bestfriends is Vanessa. She has the weirdest style but she's the sweetest. She's the loudest among our group. She sings very well but doesn't know how to dance, lol. We are friends for more than a decade and we have been through ups and downs. Our families know each other so we trust each other so much. But when her family moved to New York, we didn't see each other again. 3 years ago was one of the saddest days of my life. It was also the time when she wasn't around during my terrible breakup.
Anyway, we talked again on webcam today! I was so surprised with what she did with her nails. I missed her and she's really sweet. I was also stunned about her dyed and curly hair. We used to talk how we wanted to be curly and blond and now she finally did it! Oh what New York can do more to you, Vanessa!
She said she's now called Nessa coz she thinks it's sexier and mature. But I think Vanessa is a sexy name. She thinks I said that because of Vanessa Hudgens or Vanessa of Pussycat Dolls, lol. But I said her name is just as sexy as mine. "No, you're a witch!" Haha! She was referring to Penelope of that famous Charmed that we used to watch. It has always been her line whenever we fight or just want to stop me from talking.
Then we started talking about how or when you can say that a name is sexy. Does it have to be owned by a celebrity who's famous and sexy? Do you have to hear a guy call your name and find out then and there if it's sexy or not? We suddenly stopped when we can't find any good answers at all. "I still wanna call you Vanessa". "I still wanna call you witch"… Oh how I miss you.
Google+ Comments
Comments
There are no comments on this entry.
Trackbacks
There are no trackbacks on this entry.