Lesbian Relationship Rules
Are you into a lesbian relationship or  wanting to have a relationship with a person of the same sex? Well, there are rules to be followed to make your lesbian relationship and lesbian sexual experience more awesome and safe. Checkout the lesbian relationship rules below from All Women Stalk!
THERE ARE NO GENDER DEFINITIONS
When it comes to lesbian relationships, one of the top rules in a lesbian relationship is that there are no gender definitions. Just because I work outside of the home and my partner works inside the home, doesn't mean that I am suddenly the 'man' in the relationship. It just means that I work outside and she works in. There aren't automatically roles that lesbian relationships follow, it depends on the participants.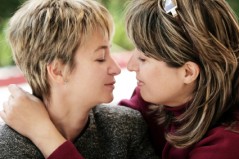 NOT EVERY RELATIONSHIP HAS A BUTCH/FEMME
Also, not every relationship has a butch lesbian and a femme lesbian. Truthfully, a lot of people have that misconception about lesbians and it's simply not true.
SEX TOYS
Another rule in a lesbian relationship is that not every relationship has to have sex toys – and if a lesbian does use them, it doesn't mean that she is missing something. Truthfully, a girl can get off in so many other ways and sex toys can just be for fun. In a lesbian relationship, us girls just want to have fun!
SEX DOES NOT HAVE TO BE A STAPLE EVERY NIGHT
Because you are dealing with two girls, there isn't a rule that you have to have sex every single night. You can actually go a few weeks or even months without sex just because you don't feel like it. Try that out with a guy and who knows what can happen to your relationship!
NURTURING THE RELATIONSHIP TAKES TIME
A lot of the time, people just assume that because two lesbians are dating, they are automatically engaged – or that just because they are in a relationship, they automatically want to settle down. Nurturing the relationship takes a long time and trust me, a girl wants to know her partner inside and out before completely committing.
ANY CHEATING IS STILL CHEATING
In a lesbian relationship, any cheating, whether it is online, with another girl or even with another guy – it's all considered cheating. This is a huge rule in my relationship and because of past relationships, I have a bunch of trust issues. This is another misconception that people have about lesbian relationships – that if a lesbian cheats with a guy, doesn't mean that she is cheating. Not true!
NO AUTOMATIC THREESOMES
Finally, another rule in a lesbian relationship all revolves around threesomes. Just because a girl is in another relationship with another girl, doesn't automatically mean that she is going to ask for a threesome.
Learn more from AllWomenStalk.com!
"image is a copyrighted photo of model(s)"
Google+ Comments
Comments
There are no comments on this entry.
Trackbacks
There are no trackbacks on this entry.